How to Use Dooney & Bourke Coupon Codes?
You can save more from Dooney & Bourke effortlessly. It allows all customers to enjoy the classic products with huge discounts. It provides different offers for first time users, hardworking students, smart working teachers, military community. But the offers are limited to once per user. No offer or code can be combined, as the customer can get the benefit of only one code / deal / offer. Check out the steps below to use your code.
1. Click on "Add to Bag"
2. Click on the "Checkout" button on the pop-up or simply ignore it to add more items to cart
3. Now, click the shopping bag icon at the top-right corner. Click the "Checkout" button
4. View your order items and find the field below to enter the code
5. Enter the coupon code and click "Apply"
6. You will see the changes in the estimated total.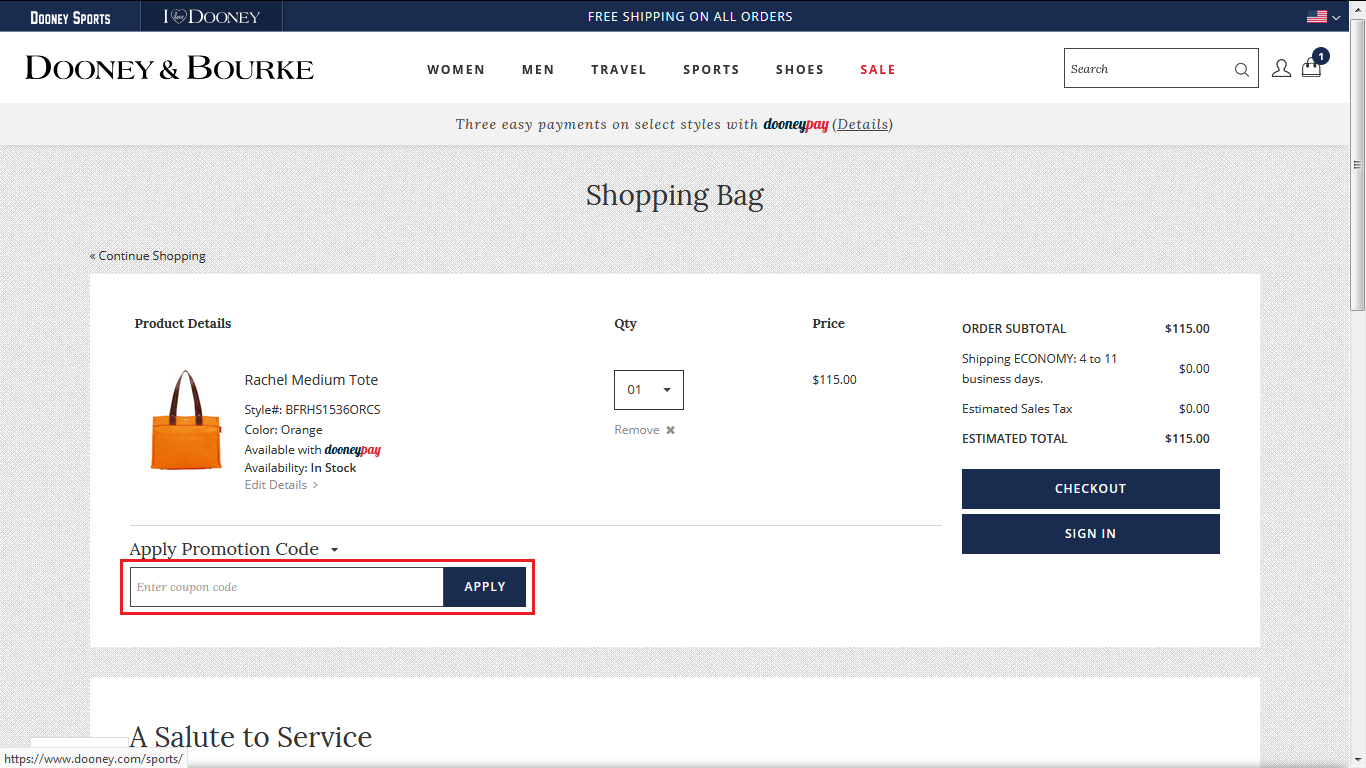 How to Save from Dooney & Bourke?
There are innumerable ways to save form Dooney & Bourke. Ensure to place your orders with huge discounts. Just use the best deals, promotional offers, coupon codes and promo codes to save your amount.
1. Sign up to their mailing list to receive special offers and the latest news about their products.
2. Dooney & Bourke gives 10% off on your first order on subscribing to their email.
3. Get exciting deals and coupon code from genuine sites to avail offer on your purchase
4. Use deal of the day and the best deals from authentic websites for greater savings on orders
Dooney & Bourke Review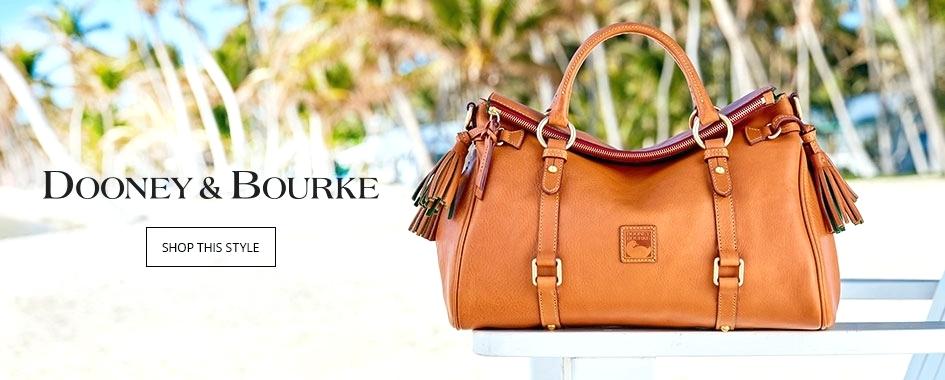 Dooney & Bourke provides a wide range of women and men accessories, travel accessories and shoes that are more fashionable. They offer Satchels, Totes, Crossbodies, Shoulder Bags, Backpacks, Handbags, Wallets, Wristlets, Watches, Scarves, Jewelry, Footwear Travel Bags and Travel Accessories for women. Dooney & Bourke offer Men's Business Cases, Wallets, Watches, Keychain, Shoes and Sports for men. Each product is designed and crafted with American Style.
The broad range of collections varies with leather type, that includes Beacon, Derby Florentine, Derby Pebble, Derby Suede, Emerson, Florentine, Harding, Pebble Grain Leather, Alto, Miramar, City Leather, Belvedere, Patent, Patterson, Blakely. Harding Dooney & Bourke has above 150 boutiques across the globe, 25 retail stores and outlets in every part of the United States. It is estimated to generate $30.3 M in revenue annually. You can grab these fashion products as per your requirements at stores near you. The store timing varies for every location. Dooney & Bourke also offer gift sets and gift card for men and women to present loved ones on special occasion. You can choose to make a purchase based on the material, color and collection you desire.
1. You can walk into the retail store or pick your favorite products online with massive discounts. Here we give you different ways to save your money at Dooney & Bourke
2. Dooney & Bourke provide great discounts to students and teachers with $30 off on orders placed at dooney.com above $150.
3. It also offers the same ($30 off on orders above $150) for active duty, veterans, reservist, National Guard, and family members of the military. But the offer is limited to use only once per customer.
4. Do not forget to subscribe to Dooney & Bourke mailing list. Since it lets you shop with 10% off on your first purchase
5. Stay updated with their email newsletters to know special offers and discounts on products