How to Use sheSTEALS.com Coupon Codes?
Get a She STEALS coupon code/ promo code on the company website as described in the section below and then apply it to your order as follows:
1. Add an item to your cart and proceed to checkout.
2. Sign up for a STEALS account using your Facebook, Gmail, or PAYPAL account.
3. The next page will reveal a coupon code area. Enter your STEALS coupon code and apply to your order to get a discount.
4. Complete the checkout process by entering your billing address, paying with credit card/ PayPal and confirming your order.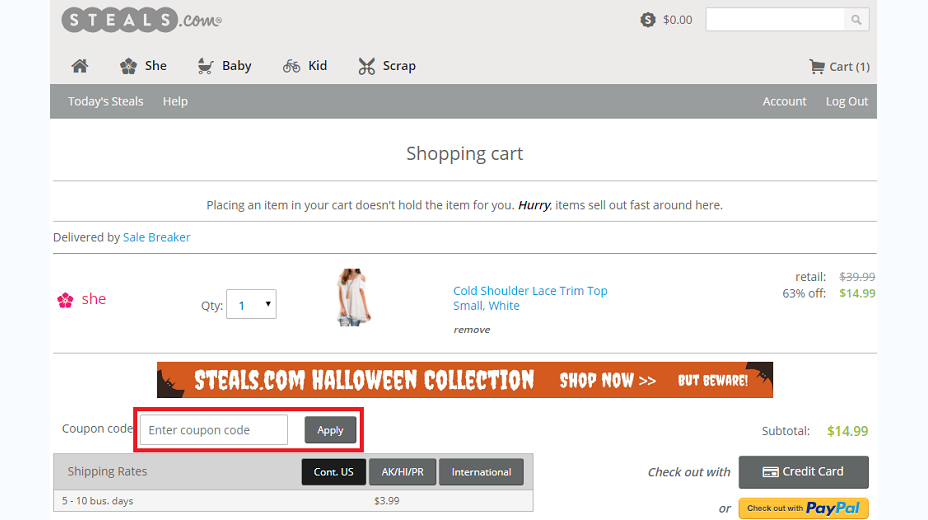 How to Save from sheSTEALS.com?
She STEALS is probably one of the best online stores to save money on women's items and baby products. Most products on the site are significantly discounted. You will save tens of dollars just by buying any item on the store as opposed to buying it elsewhere.
One can also save on She STEALS by shopping for free shipping items to avoid shipping charges. There are plenty of items clearly labeled "free shipping" on the website.
Nevertheless, the most fun way to save on shesteals.com is by using She STEALS coupon codes. The brand normally releases coupons every now and then on its website. All you need to do is to copy the coupons and apply them as expounded in the section above. You can also get valid She STEALS coupons from our website.
The other way to save is to register and become a member of the website. You will earn points every time you visit the website as a member. You will also earn two points for every dollar you spend on the store. Once you get enough STEAL points, you can redeem them at the rate of 1 USD for every 100 points. You can then apply the redeemed cash to your order to get an equal discount.
sheSTEALS.com Review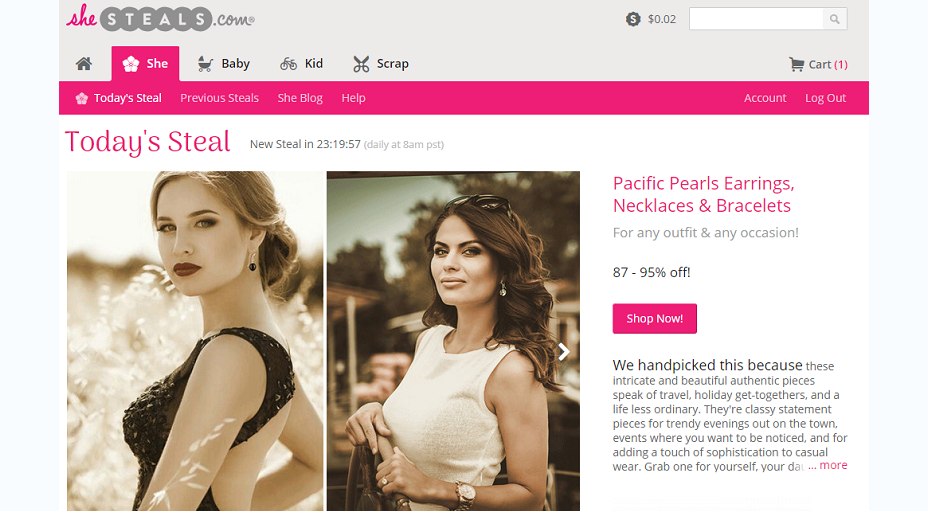 She STEALS was founded by Jana Francis and Rett Clevenger in 2008.
The company sells amazing products at a bargain. You will find premium quality items including beauty products, accessories, baby products, shoes, books, and similar stuff on the website.
To save on shesteals.com use She STEALS coupons that you will find on the company's website or on our website. You can also save by signing up for a She STEALS account and grabbing She STEALS promo codes, coupons, and deals plus redeemable points for every dollar you spend on the website.