How to Use 4 Wheel Parts Coupon Codes?
4 Wheel Parts makes it easier for you to save on your shopping needs while getting the highest quality products when you use their coupons and promo codes. Here are the steps to follow to use the 4 Wheel Parts coupons and save more cash on your purchases.
1. Choose your preferred item and add it to cart
2. Click "View Cart"
3. Click on the "Enter Coupon/Promo Code" box and enter your coupons before finishing by clicking "Apply Code" to update your order summary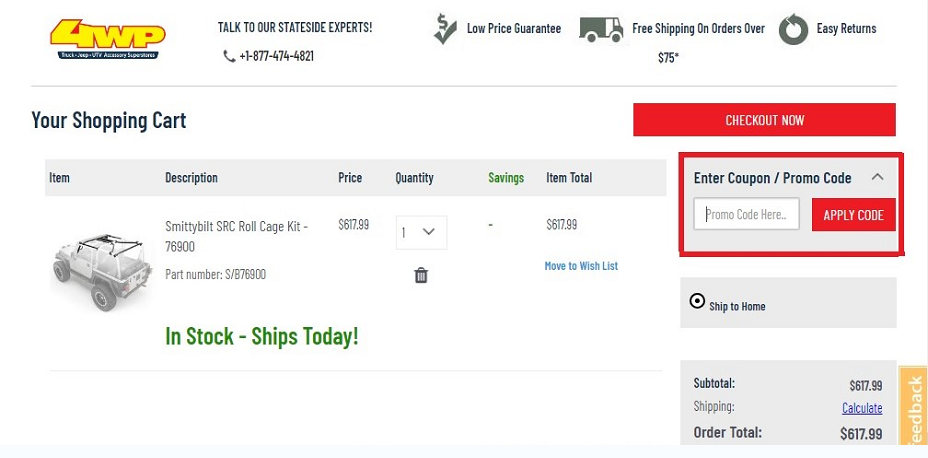 How to Save from 4 Wheel Parts?
With 4 Wheel Parts, saving on your shopping needs is just an email signup away. Besides, you can also enjoy plenty of discounts each time you shop at 4 Wheel Parts and save more cash for other projects. That said, here are some of the ways to save from 4 Wheel Parts.
1. Enjoy exclusive offers with email sign up
2. Take up to 25% off during fall savings event
3. Take up to $500 off Smittybilt M1 bumpers
4. Get 30% off a rampage
5. Take 10% off select pro comp lift kits
6. Enjoy 5% off sitewide
7. Get a free upgrade to monotube shocks by Bilstein with purchase of qualifying kits
8. Get a free $75 promotional gift card with purchase of select jeep Magnaflow exhaust systems
9. Take 15% offsets of 4 LRG wheels
10. Save $200 off XRC Gen II bumpers for JK
11. Get a free alpine spare tire mounted back-up cam when you purchase select alpine radios for your jeep
12. Take 10% off when you purchase poison spyder front and rear bumpers
13. Take 10% off pro comp 6-inch lift kits
14. Get a free $75 promotional gift card with purchase of select Flowmaster exhaust systems
15. Enjoy up to $150 off bushwhacker products
16. Get a free bestop trek top NX soft tops installation with your purchase of $300 value
17. Take 10% off select 7-inch oracle headlights
18. Take 15% off select new putco F1 bulbs
19. Get 15% off a set of 4 method race wheel products
20. Get 15% offsets of 4 pro comp alloy wheels
21. Take up to $200 off a select set of 4 Mickey Thompson tires
4 Wheel Parts Review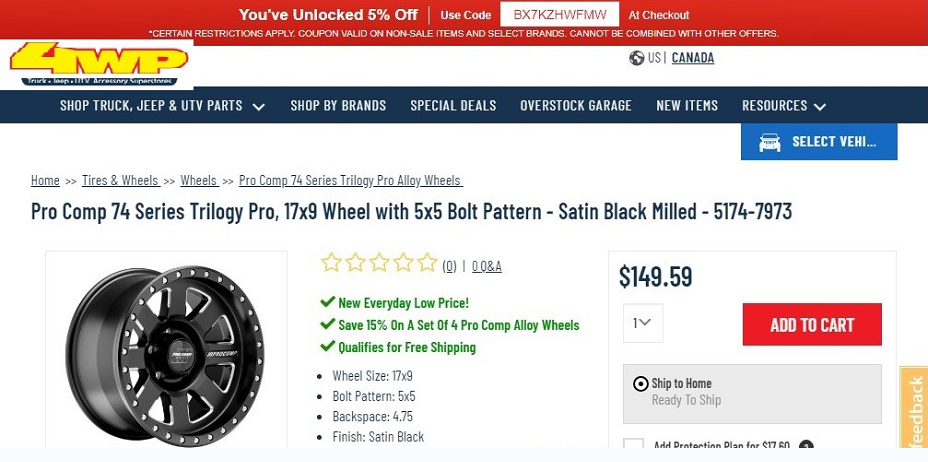 Guided by their motto of "Quality Parts, Lowest Prices, Fastest Service and Fully Guaranteed," 4 Wheel Parts is the number one store for your truck and jeep accessory needs at the budget-friendly prices. The fact that 4 Wheel Parts features some of the top brands such as Hypertech, Diablosport, and Airaid among others is enough proof that you have the best chance to get nothing but the highest quality products when you consider them for your shopping needs.
Besides, 4 Wheel Parts also boasts a distinct collection of tires and accessories including air in-takers and shock absorbers. And if you often transport heavy loads then 4wheelparts.com is still the ideal place to satisfy your needs pertaining to towing accessories such as utility boxes, receiver hitches, and leveling kits. Whether you need a memorable gift for your beloved off-road geek or some accessories for your truck, look no further because 4 Wheel Parts has it all for you in one place. Best of all, use the 4 Wheel Parts coupons to make all your purchases with discounts in addition to trying out the following ways.
1. Take 15% off sets of 4 pro comp steel wheels
2. Get $100 off artic fridge or freezer
3. Get a free $35 promotional gift card with the purchase of select optima batteries
4. Limited time offer! Get a free $30 promotional gift card with purchase of select Flowmaster cold air intake systems
5. Get a free bestop TrekSteps installation with your purchase of $100 value
6. Enjoy up to $100 off a select set of BFGoodrich tires
7. Take 20% off instantly when purchasing select pro comp suspension leveling kit
8. Get a free ARB digital inflator with purchase of the ARB twin compressor
9. Take $50 off tonno probed covers via mail-in rebate
10. Get a free hammer differential cover with purchase of jeep ring and pinion package
11. Take 50% off installation on select brake and rotor kits from powertop
12. Rebate 5% via mail when you spend more than $149.99 on rugged ridge products
13. Enjoy up to $500 off select tires and wheels from pro comp, BFGoodrich, Toyo tires and more
14. Take $10 off $150+ orders
15. Take up to $500 off tires, wheels and more
16. Enjoy up to $250 off G2 axle assemblies
17. Get up to $100 off Toyo tires
18. Take 35% off Smittybilt D-rings
19. Take 10% off body armor bumpers
20. Enjoy up to $200 off select tires and more from BAK, Goodyear, Mickey Thompson, Pro Comp, Smittybilt and more
21. Take up to 10% off oracle rocker lights
22. Get up to $150 off select LRG rims
23. Take 10% off weigh safe hitches
24. Get up to $400 off Pro Comp lift kits