How to Use Casual Male XL Coupons Coupon Codes?
Most of the time when we think of bigger size, somewhere in our mind we already are ready to compromise on the fashion. But Casual Male XL helps you get the style in your size. It is a consumer-centric store and shopping online on the website is even easier.
To start shopping at Casual Male XL sign up for a free account. Once you have an account on Casual Male XL, browse through the website to our shop category wise, cloth, shoes, brands, looks, accessories, everyday specials, and sale. A good range of apparels waits for you in the store.
First timers are always welcomed quite warm at the store, so sign up for their email to receive a 10% discount on your first order. Subscribing to the emails will also update you with the latest offer and promo codes available and you can save money on your online shopping. On the website itself, you will get discount codes that you can use during the checkout process. You can shop without signing up for an account also, just that you will miss out on the 10% discount offer.
Follow the below-mentioned instructions to see how to use coupons and promo codes on Casual Male XL:
• Log in to www.destinationxl.com, the homepage will display.
• Select your shopping category and browse through. Once you have selected the item you want to purchase, select the size and quality of the item. You will get two options, 'Ship to address' and 'Pick up in store', select one of the options as per your convenience.
• Click on 'Add to Bag' button. The item will be added to the bag. Click on the bag icon on the extreme top left corner. Shopping Bag page will display.
• Type the promo code on the 'Enter a Promotional Code' field and click on 'Apply'. The Promo Code will be applied, you can check that in the order summary in the right hand of the screen. You can now view the discount you have received.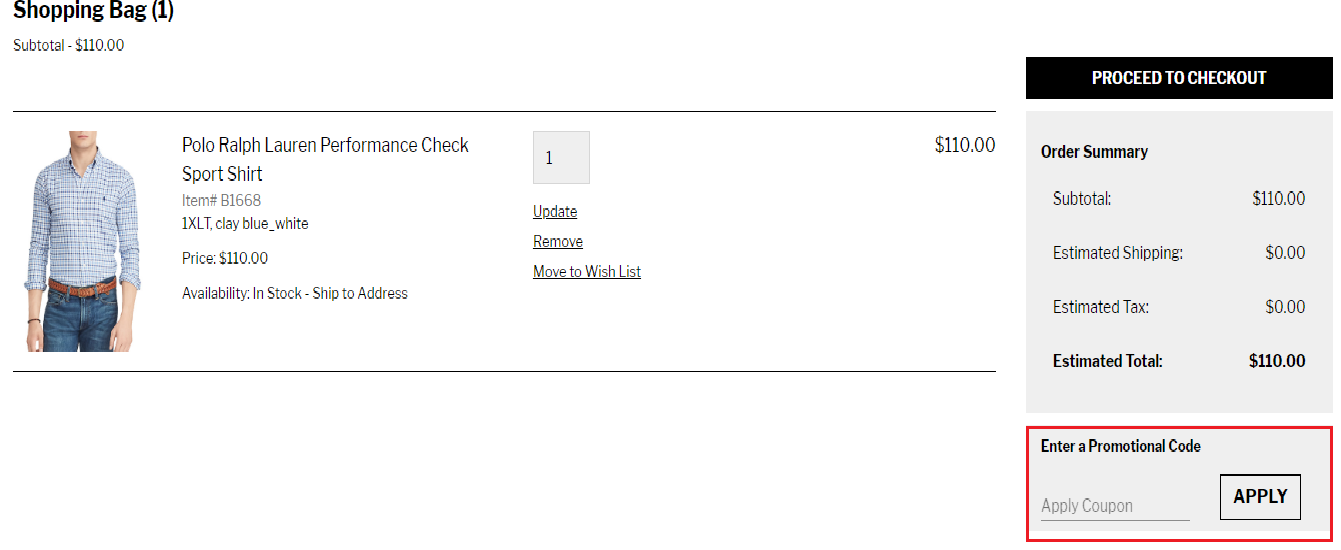 How to Save from Casual Male XL Coupons?
Casual Male XL offers a variety of promotional offers on their website. You can save money using Casual Male XL Coupons available on the website or online coupons available. Yes, you can find a lot of coupons & deals online for Casual Male XL and save on brands like Polo Ralph Lauren, Michael Kors, Thomas Dean and many more. Here are some of the shopping hacks that can help you can save on your purchase at Casual Male XL:
• Subscribe to Casual Male XL emails and receive 10% discount on your first order.
• Once you sign up on the website you will receive emails about the latest offers and deals. This way you will get to know the monthly or any special Casual Male XL coupon codes.
• Frequent visit to the website. Sometime while you are in the checkout process, a deal might pop up briefing about the deal you are eligible and the call to action would be 'activate the offer'. Click on that to avail the offer.
• Don't forget to check the top and the side banners of the website, as they display, hourly, monthly, daily offers.
• Check out the online coupon websites for any other additional Casual Male XL Coupons offers on free shipping, promo codes etc.
Casual Male XL Review
Tired of wearing the same boring attire? Your wait is over, Casual Male XL is the one-stop solution for you. Yes, you can buy fashionable, trendy clothes that fit you well at Casual Male XL. The stores offer a wide range of brands from Polo Ralph Lauren, Tommy Hilfiger, Harbor Bay, Oak Hill, Reebok, Nike, Levis and many more. Casual Male XL is the leading retail store for big and tall, people can find clothing in their desired size in the store. Before Casual Male XL it could have been really difficult for the big and tall sizes to find their perfect fit but now with Casual Male XL, it is never a problem. Now you can shop for anything from sportswear, activewear, dress clothing, accessories, to footwear.
Casual Male XL gift card can be an amazing gift item for your loved ones.
You can find a lot of promo codes online as well on the official website itself for Casual Male XL. The company offers 'Everyday Specials'. You can buy 2 or more of these items and receive a discounted price on your purchase.
Tips to save money on Casual Male XL:
• Shop from the SALE tab to buy apparels at a lower rate.
• Look at the 'Everyday Special' to get great deals
• Use online promo codes and combine it during the checkout process to get maximum discount.
• Try and order a minimum order of $100 at one go to receive free shipping. For example, you can list down all your needs and shop at one go, to reach the lowest minimum purchase for free discounts.
• Sign up to the email subscription to receive updates on the latest deals and offers.
A great deal of exiting offer waits for you at Casual Male XL, use the promotional codes and save online