How to Use Coordinates Collection Coupon Codes?
The entire exercise is very simple. Unlike other websites, registration is not compulsory. You can use their services as a guest. Follow these directions to use your Coordinates Collection coupon or promo code;
1. Choose the jewelry of your choice by tapping "Design Now".
2. Tap "Choose Metal" to select either a gold or silver medal.
3. Tap "Choose Your Finish" to choose the finishing you want.
4. Click on "Choose Your Size" to choose the perfect size for your jewelry.
5. Click on "Customize" to process the information you inserted.
6. Add an engraved message in the space provided.
7. Click on "Shopping bag" to add the item to your shopping cart.
8. The next page will display the image in a full view.
9. Beneath the image, there is a small box "Add a Gift Message". Enter a message inside the box if the item is a gift for a special person. Tap the "save" icon when you're through typing your message.
10. Tap the "Continue to checkout" icon on the right-hand side of the page.
11. A message will pop up requesting if you want to register or continue shopping as a guest. If you want to register you can do so. There is nothing wrong if you also tap "continue as a guest".
12. The next page will display a list of items you have to fill out. They include your shipping details and email address.
13. On the right side of the page, enter the coupon code in the box written; "Enter the promo code".
14. Press the "Apply" icon to process your discount.
Coordinates Collection permits that customers use a particular coupon once. This simply means that each coupon is used per order.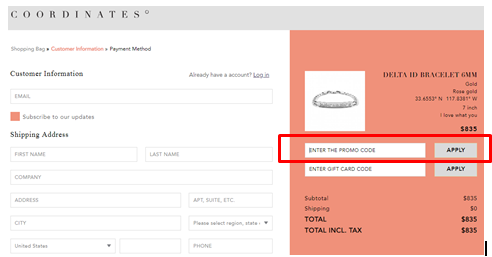 How to Save from Coordinates Collection?
If you are one of those customers that believe that without a Coordinates Collection coupon you can't save money, you are about to get the shock of your life. There are so many ways to save from Coordinates Collection that most customers are not aware of. Here they are;
1. Coordinates Collection gave some concession to students, active duty, reserve and retired members of the military in the United States. Just present a means of identification and you will get as much as 20 percent discount on any merchandise you purchase.
2. If you are the holder of a corporate gifting event, you will get special discounts on all the items you purchase.
3. You can also track the production of your order to ensure it meets your demand.
4. If you live within the United States, shipping is completely free. However, their international shipping charges are very low compared to other companies.
5. Register with Coordinates Collection newsletter to get insider information like special offers and deals.
Coordinates Collection Review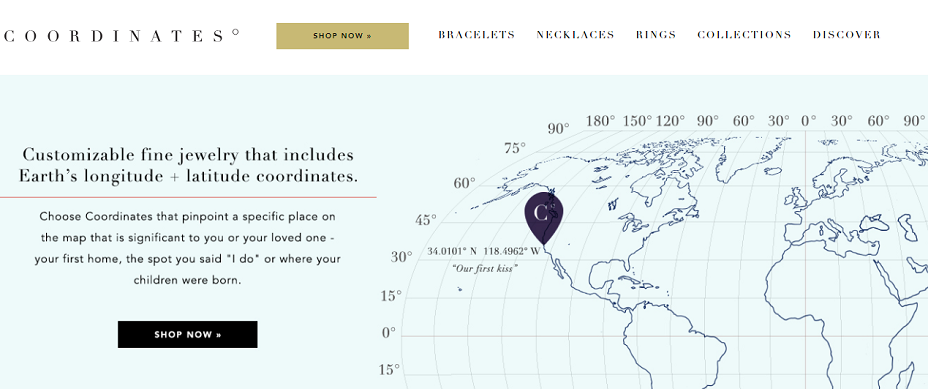 Coordinates Collection has made a name for herself within the short period it started a business. They design a special piece of jewelry for you at affordable prices. They design and customize your bracelets, necklaces, and rings to meet your taste. Coordinates Collection will help you preserve a memory on your piece of jewelry. They have a Horizon ring that is plated in gold or silver. Coordinates Collection color variation is usually silver and classic 14-carat gold. As a customer, you will feel like you were part of the designing and manufacturing of the merchandise. You can add an engraving to the piece of jewelry too. You can also track the production of your order at every stage to ensure its perfect. Take a look at these saving tips below;
1. Coordinates Collection is on social media. You can find them on Facebook, Instagram, Pinterest or Twitter. They also give out discounts and other special offers to customers that are part of their social media community.
2. A frequent visit to Coordinates Collection website will keep you posted with their latest offers.