How to Use Dillard's Coupon Codes?
Given that it is such a popular store, you cannot be faulted for expecting them to make it easy for you to use their coupon codes. It is, in fact, easy to use their coupon codes. Just follow the step-by-step instructions below.
1. Browse the product categories and find what you are shopping for.
2. Select the product and then click the 'Add to Bag' button to move it to your shopping bag.
3. A pop-up page will appear asking you to 'Checkout' or 'Continue shopping'. Click the 'Checkout' button.
4. One the next page click the 'Proceed to checkout button' and checkout as a guest in case you are in a hurry.
5. Add your billing information.
6. Add your shipping information.
7. The next page is the payment page and is also the page where you enter your Dillard's coupon code/ rewards certificate.
8. Then complete and confirm your order. Wait for 2 to 5 business days to receive your purchase.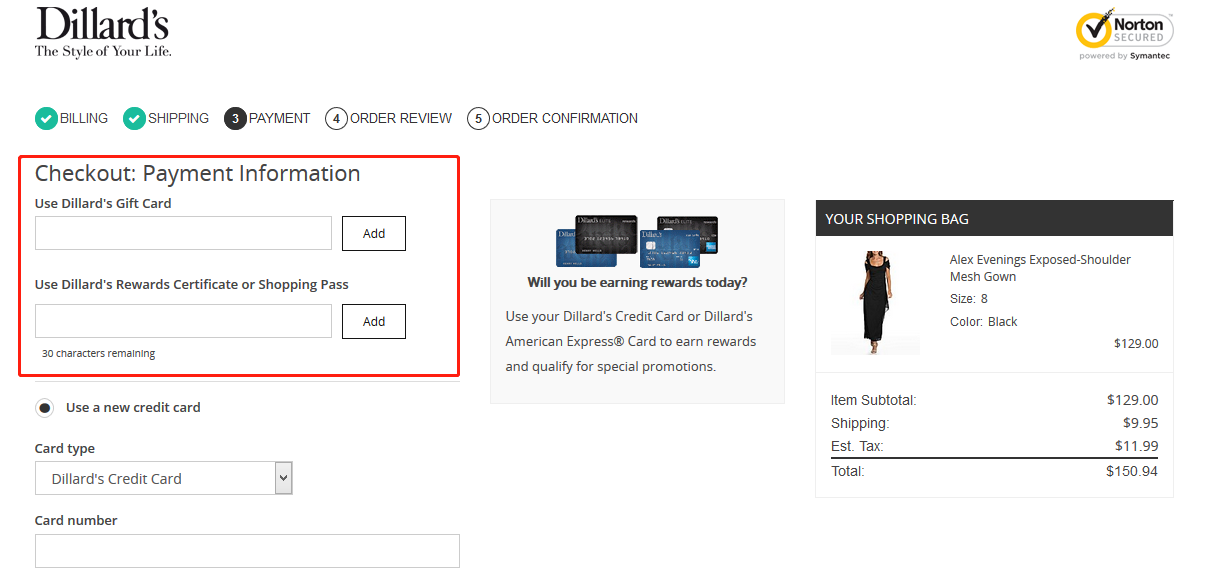 How to Save at Dillard's?
Love deals? Well, we've got what you need to shop for less at Dillard's. We will tell you exactly what you need to do to save money at Dillard's. The first thing to do is to sign up for Dillard's credit card. The credit card can be topped up or used at many locations. The point of getting this card is to register for Dillard's reward program; every time you shop using the card at Dillard's you get 20 points for every $10 you spend. 1500 points can be redeemed for a 10% off shopping pass. There are two versions of this credit card – the normal version and the elite version. The elite version will get you extra points even for shopping in other locations. Points that you can later redeem at Dillard's.
The second thing to do is to shop at their clearance section both online and offline. You will find some of the deepest price cuts in this section, especially on their online store.
The third thing to do to save at Dillard's is to watch out for holiday sales. Some of the best clothes and accessories are usually sold at cut prices during holidays.
Dillard's Review
There is no doubt to most people that Dillard's is one of the most popular chic women's shopping stores in America. It has got some fantastic clothes and brands at great prices. The company was founded in 1938 and it has been grown by the Dillard family to become the national brand it is today.
The best way to save money on their store is to sign up for the company's credit card. The card allows you to save good money by rewarding you with redeemable points every time you shop. The second best way to save money is to shop during their clearance days and during holidays. You will enjoy some of the best price drops on those days.