How to Use Gifts With Humanity Coupon Codes?
Gifts With Humanity coupons will get you money off even as you support independent artisans from different parts of the world. You can get the coupons from our website or from the giftswithhumanity.com homepage. The coupons can be applied to orders as follows:
1. Visit giftswithhumanity.com to select the gift you want to purchase.
2. Add your unique gift to your shopping cart.
3. Click on the cart to review gift details.
4. Commence the checkout process by clicking checkout.
5. The first page is the customer details page and also the Gifts With Humanity promotion code submission page. Enter your customer details and submit your promo code/ coupon code. Submitting your coupon code will automatically get you a markdown.
6. Choose a shipping method.
7. Finalize the checkout process by paying for your order.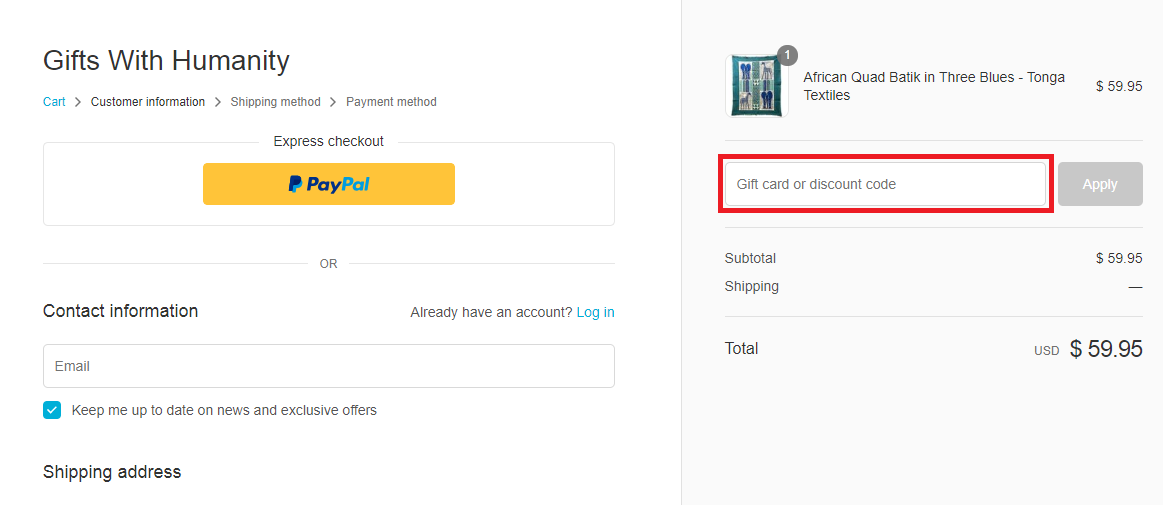 How to Save from Gifts With Humanity?
Gifts With Humanity customers don't pay full price when they use the means below:
1. Sign up for the Gifts With Humanity rewards program: This Company has a rewards program that you can easily become a part of and earn points for shopping and for doing other things on the website. For instance, just signing up will get you 25 points for free. The points are redeemable for store credit. For example, 100 points will get you $10 off on this online store.
2. Buying gifts that are on sale: This business has a special online page with unique, handmade products on sale. You can save some pretty good cash by browsing this page to find the unique stuff you are looking for at discounted prices.
3. Apply Gifts With Humanity coupons: You can save great cash by applying this company's coupon codes as detailed in one of the sections above.
Gifts With Humanity Review

Gifts With Humanity is a marketplace for unique handmade gifts from over 20 countries around the globe. Buying gifts from this company support artisans and helps them in improving their quality of life. This company is a part of Global Crafts – a company that was founded in 2002 by Kevin Ward and Renice Jones when they were doing volunteer work in Africa.
The gifts you will find on the website are of premium quality and the company behind it (Global Crafts) is a member of the Fair Trade Federation. In short, Gifts With Humanity is a credible business with a good reputation.
Customers can save money on this site using Gifts With Humanity coupon codes. They can also save by purchasing gifts from the sale section.