How to Use Golden State Fruit Coupon Codes?
Shoppers can only use Golden State Fruit coupons on the brand's official website agiftinside.com. The coupons can be acquired from the site or from this current page. To apply the Golden State Fruit Coupon Code, do as follows:
1. Visit agiftinside.com
2. Click on the menu item marked FRUIT BASKETS. This will redirect to the page with all Golden State Fruit Baskets.
3. Add the fruit gift basket you want to buy to your cart.
4. Click on the cart to review cart summary and to reveal the coupon code submission area.
5. Submit your Golden State Fruit coupon code to redeem your discount.
6. Click PROCEED TO CHECK OUT to launch the first checkout page.
7. Submit your email to register for an account on the page.
8. Enter shipping, billing, and then payment information to complete your order.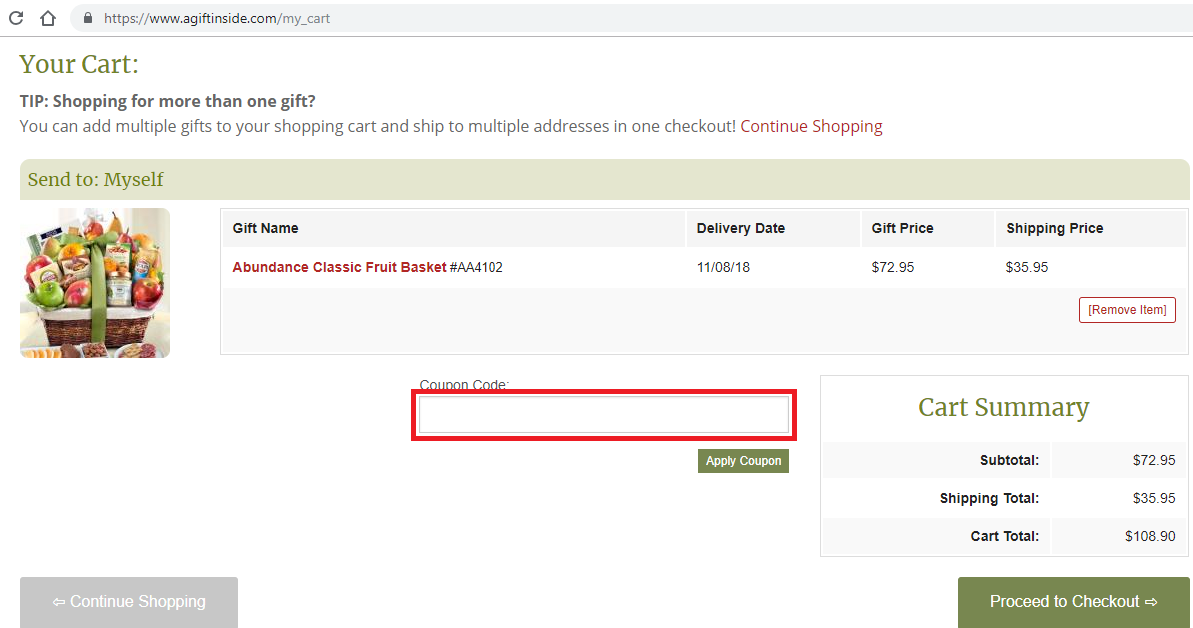 How to Save from Golden State Fruit?
You can pay less for fruit baskets from Golden State Fruit by:
1. Purchasing your gift baskets early enough: When you buy stuff early enough from this company, you can get them delivered to you using the cheaper standard shipping method instead of the more expensive expedited shipping methods.
2. Joining a monthly fruit club: This website has absolutely exciting monthly clubs that you can join at a fee. Members of the club get their fruit baskets delivered on time. They also get information about deals on the site and free shipping on the subscribed baskets. Moreover, longer subscriptions allow you to get fruit baskets at discounted prices.
3. Checking out the coupon page: This site has a coupon page where you can copy some exciting coupons to use on your order as we have demonstrated above.
4. Signing up with your email for emails: All those who sign up get exclusive offers and announcements from agiftinside.com.
Golden State Fruit Review

Golden State Fruit is a brand of A Gift Inside – a company with a rich history of over 50 years. The brand was founded in 2009 by the company to grow fresh fruits in the fertile Sacramento Valley of California.
Since it was founded in 2009, the Golden State Fruit brand has distinguished itself as a supplier of some of the best handpicked and sun-kissed fruits in California. The company's gift fruit baskets are some of the most sought after in the West Coast of the United States.
Some of the bestselling fruit baskets from this company include the Abundance Classic Fruit Basket which includes dried fruit, premium almonds, chocolate covered caramels, Italian sausage, artichoke spinach cheese dip, and plenty of big natural fruits such as apples, pears, and oranges. The Love berries chocolate covered strawberries gift basket is also popular.
The fruit baskets sold by this brand via agiftinside.com are true gifts; they are huge, they are fresh, and they are accompanied by other delicious treats.
Shoppers on agiftinside.com can save dough on fruit baskets by using Golden State Fruit coupons. They can also save subscribing to the monthly fruit club for offers, discounts, and free shipping on certain orders.