How to Use Living Proof Coupon Codes?
It is great when you shop your favorite product with amazing discounts. Living Proof allows customers to shop in such a way. It accepts only one promotion code from a customer per order. The unsatisfied products can be returned for any reason, as Living Proof wants to make its customers happy by solving their beauty concerns.
1. Select the product you wish to buy
2. Click "Add to Cart"
3. Continue shopping to add more items to cart
4. Click the cart menu with shopping cart icon
5. View the product details
6. Enter the promo code and click "Apply"
7. Estimated total will be changed according to the promotion code applied
8. Click the "Checkout" button to proceed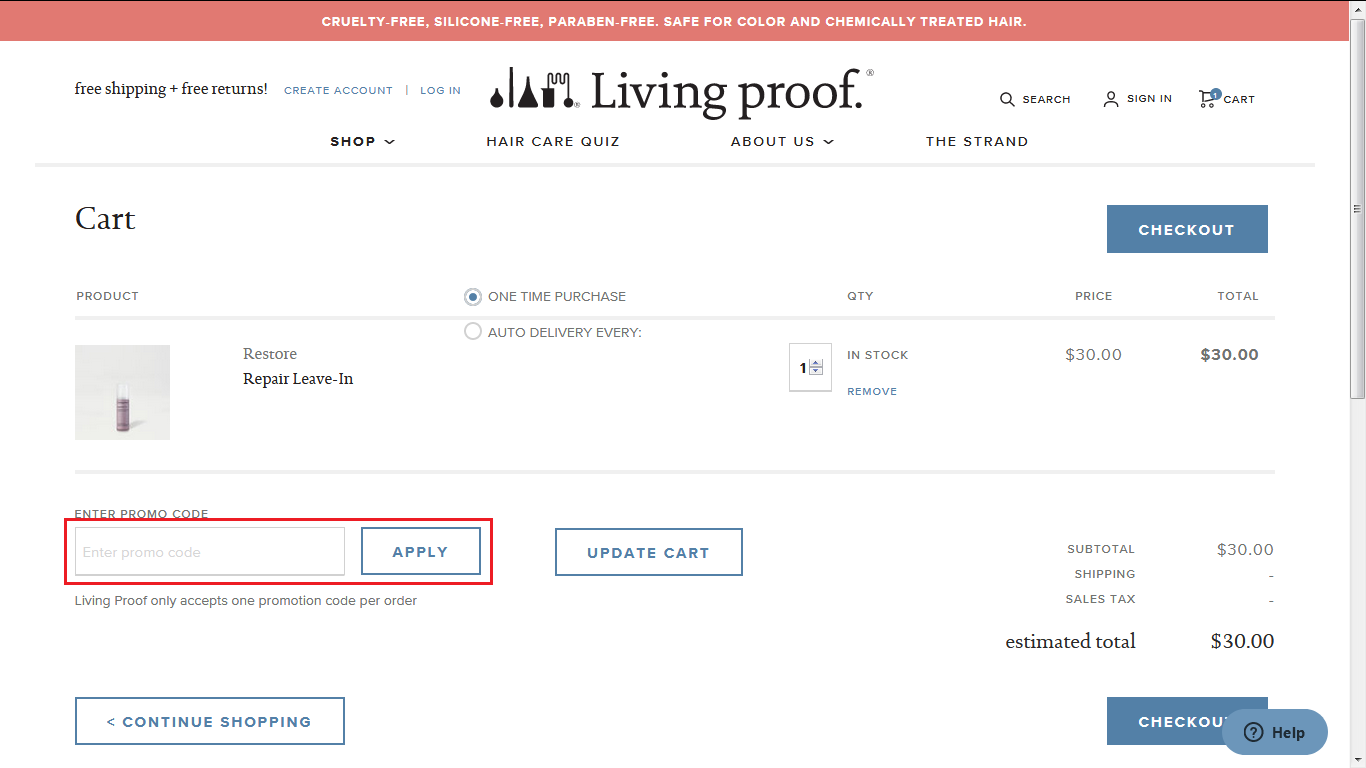 How to Save from Living Proof?
You have countless ways to save from Living Proof. Find the Living Proof Coupons, top deals, discount codes, promotional offers, sales from authentic websites. Also, make sure to collect the valid coupon code. Ensure to place orders with huge discounts.
1. Sign up for Living Proof emails to receive information about special offers, product launches, and new looks
2. Register as a customer - Fill out the form, create an account, be a customer of Living Proof and enjoy the benefits
3. You can also follow Living Proof on Facebook, YouTube, Pinterest, Instagram, and Twitter to stay connected and receive product updates, sales, and events
4. Join the Living Proof Salon Pros Facebook group to look at the latest events, photos, and videos
5. You can find coupons online that gives up to 75% Off on Living Proof products.
Living Proof Review
Living Proof manufactures, sells and supplies a broad category of hair care products that are Cruelty-free, silicone-free and paraben-free. Living Proof with a team of hair stylists and scientists uses its patented technology to give beauty care solutions. It offers Shampoos, Dry Shampoo, Conditioners, Treatments, Stylers, Prep + Primers and Hairspray. You can buy Perfect hair Day Shampoo, Full Shampoo, No Frizz Shampoo, Restore Shampoo, Timeless™ Shampoo and Perfect hair Day™ Dry Shampoo. Living Proof allows customers even to shop based on the hair type. It has products for all hair types - Coarse Hair, Coily, Curly, Fine, Medium, Straight, Thick, Thin and Wavy Hair. Living Proof provides product for treatments, it includes Restore Mask Treatment, No Frizz Leave-In Conditioner, Perfect hair Day™ Night Cap™ Overnight Perfector, Restore Perfecting Spray, No Frizz Nourishing Oil, Restore Smooth Blowout Concentrate, Perfect hair Day™ 5-in-1 Styling Treatment, Timeless™ Pre-Shampoo Treatment, Restore Repair Leave-In and Perfect hair Day™ Fresh Cut Split End Mender. It offers different Stylers such as Perfect hair Day™ Body Builder, Full Dry Volume Blast™, Style Lab® Flex Hairspray, Perfect hair Day™ In-Shower Styler, Full Thickening Mousse, No Frizz Nourishing Styling Cream, Timeless™ Plumping Mousse, Style Lab® Blowout, Full Thickening Cream, Style Lab® T.B.D.™ Multi-Tasking Style, No Frizz Humidity Shield, Style Lab® amp²® Texture Volumizer, No Frizz Weightless Styling Spray, Style Lab® Texture Mist, Restore Instant Protection, Full Root Lift, Style Lab® Molding Clay, Style Lab® Forming Paste, Style Lab® Control Hairspray, Style Lab® Prime Style Extender®, No Frizz Instant De-Frizzer, Style Lab® Round Brush Blowout Kit, Style Lab® Flat Brush Blowout Kit and Style Lab® Side Braid Kit. You can also shop by benefits such as Anti-Frizz, Volume + Fullness, Strength + Repair, Dry Styling, Multi-tasking, and Hold. Else, you can shop by the Living Proof collections such as Perfect hair Day™, Full, No Frizz, Restore, Style Lab® and Timeless™. Living Proof products also come with travel sizes to make your journey light and easy. You can buy the products in jumbo sizes for daily use. To get knowledge about the ingredients in the product, you can refer to the product package. It is also mentioned in the website where they are subject to change. Living Proof also tells you about the hairstyle and lifestyle. Make use of the "Hair Care Quiz" to get a personalized regimen. Just pick your answers for the eight questions and finally enter your name, age and email to receive the result. It is a great choice to shop from Living Proof to have a healthy looking hair.
You can find Living Proof stores and salons across the US and Canada. Rush to the nearest store, salon or use the online service to get a solution for all your hair problems. You can save more from Living Proof in multiple ways.
1. Enjoy free shipping and free return benefits of Living Proof.
2. Registered customer will be updated through emails for gift ideas, brand new product announcements, gift ideas and many more
3. As a special offer, Living Proof offers 6-piece Ph.D. sample set on purchase over $45
4. Take a quiz and get products personalized for you
5. You can sign up to receive the newest articles from Living Proof
6. You can choose products to get auto-delivery and enjoy its benefits as follows
a. You can select the delivery frequency from 1 month to 6 months
b. You will be eligible for free shipping future deliveries along with gifts
c. You will receive an email reminder prior to each order
d. You can cancel the auto-delivery option at any time