How to Use Metal Pressions Coupon Codes?
Unfortunately, there are no Metal Pressions coupon codes to apply because the site does not have a place to apply coupon codes. However, there is no need to worry about how you will save as there are several other ways you can save at this jewelry company.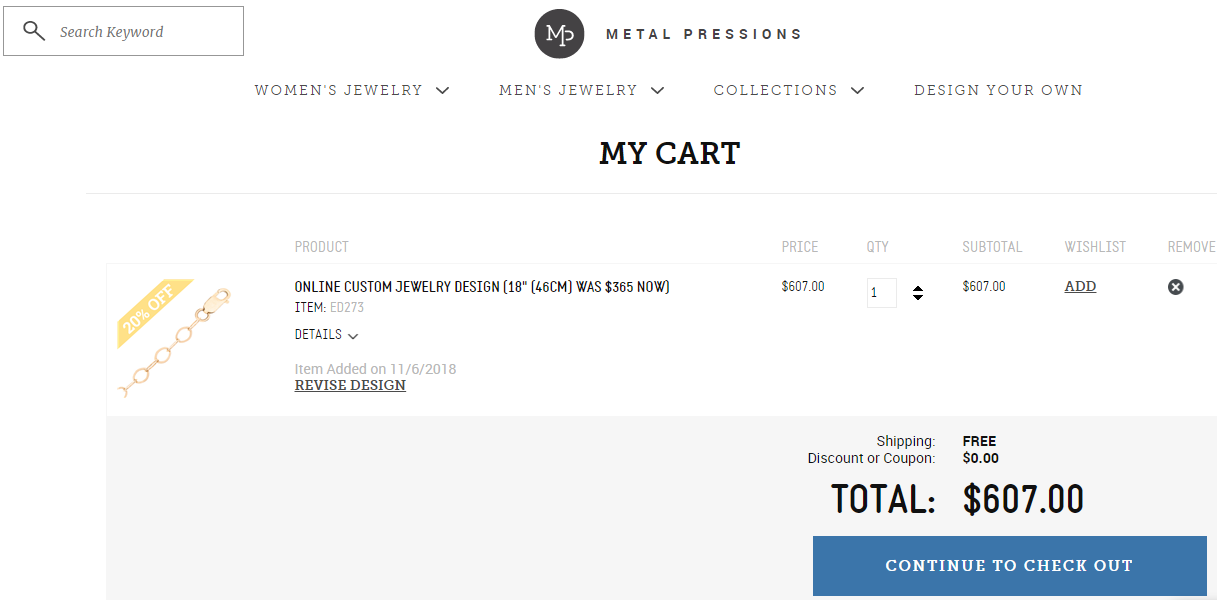 How to Save from Metal Pressions?
Metal Pressions customers get to save in two ways:
1. By designing their jewelry for free: You do not need to pay extra to get your name engraved on that ring, bracelet or necklace you want to buy. You can also modify your jewelry in other ways for free.
2. Taking advantage of the promotions: Metal Pressions usually run promotions on the homepage. For example, there was this time they have a 25% off Metal Pressions promo for all yellow diamonds. Imagine that! There was also a time they had a 20% off promotion on all 14K gold chains. These are definitely promotions you could use to save money on this site.
Metal Pressions Review

Metal Pressions was founded in 2009 by Elisha Argentinis on Etsy. Within three years, the company launched its own online store for unique jewelry designs and customizations.
Elisha runs the company with her husband Andreas in Savannah, Georgia. Their company stocks most types of men's and women's jewelry including necklaces, bracelets, rings, earrings and so on. The items are in 14k gold, sterling silver, and other materials. All a customer has to do is to choose a piece, design it using the store's design tools, and then add it to cart. Elisha will then customize the jewelry piece and ship it to him or her.
Customers can get the expensive jewelry available on the site at a discount by shopping for jewelry during promotions.