How to use Pottery Barn Coupons?
The process of using your Pottery Barn coupon or code is very easy and straightforward. Just follow these simple steps to get an amazing discount with your coupon.
1. You need to either create an account or log in.
2. Pick an item of your choice.
3. Fill out your shipping details and proceed to checkout.
4. Insert your Delivery and gift option details on the next step.
5. Enter your billing address on the next step.
6. You will find a column written Payment and review. Underneath it, there is a space to insert your promo code.
7. Click 'Add promo code' to activate your coupon.
8. Finally, confirm your order and proceed.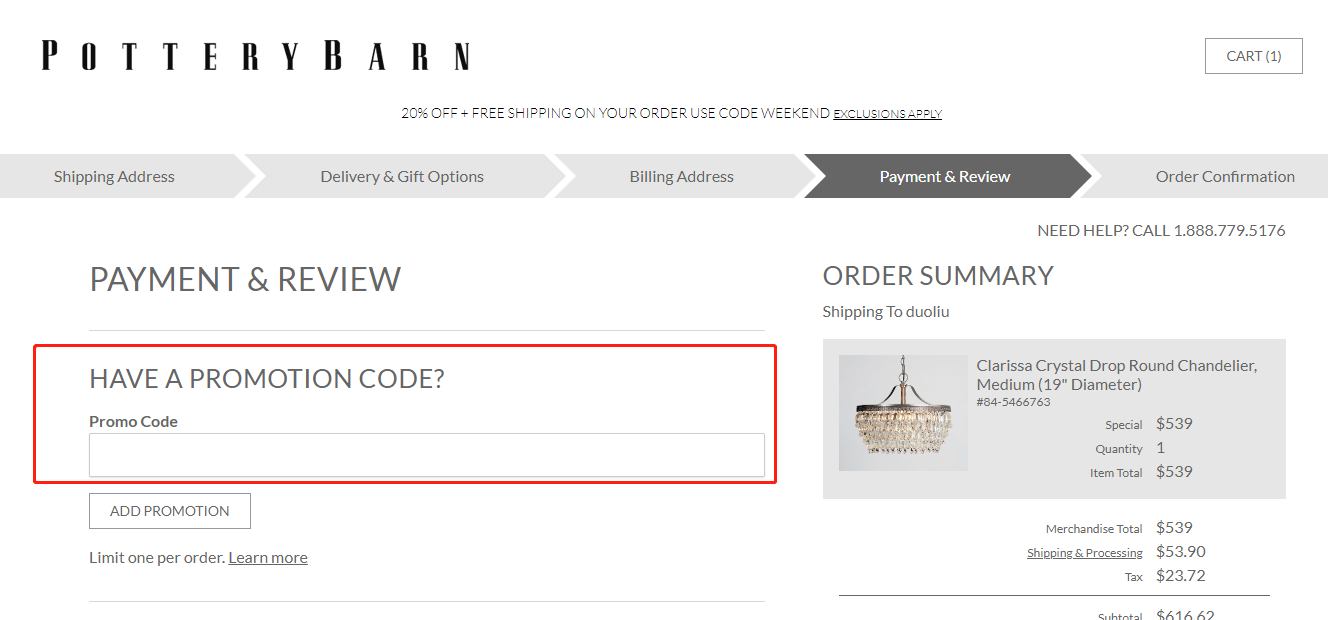 How to save from Pottery Barn?
Have you ever thought of how much it will cost to buy the furnishing of your dream? It may take a life savings to actualize that dream. However, there are so avenues provided by Pottery Barn to realize this dream. They are as follows;
1. Join a loyalty program on Williams Sonoma Stores. Remember that Williams is the owner of Pottery Barn. It's completely free to join. Members enjoy several rewards like special offers, $15 rewards etc.
2. Join their mailing list. You will receive as much as 15 percent for your first order. Other incentives include coupon updates, sales updates, notification on new arrivals, an invitation to be part of a free decoration class or event.
3. Apply for a Pottery Barn store credit card. You will receive 10 percent in rewards for any item you order on Pottery Barn, Pottery barn kids or PBteen. Other rewards include $25 when you spend up to $250, get sales information, and also get double rewards for 1 year.
4. Join their gift registry. Get an instant 10 percent discount after you have completed the registration. This discount will last for a period of 6 months.
5. Get up to 60 percent discount when you shop during the holidays. You will enjoy this offer during holidays such as Columbus Day, Veterans Day, and Black Friday. You can also enjoy up to 40 percent discount when they throw a White Sale.
6. As an employee of Pottery Barn, you will receive up to 40 percent discount for regular items. You will also receive a sales sample.
7. You can save more if you buy from the Pottery Barn Outlet Store. They have a reasonable number of their outlets across the country. You can get as much 40 to 60 percent discount from their outlet stores.
8. If you shop often at Pottery Barn, you can request for a free home décor. They will assign you a design specialist that will help you fashion out the best interior decoration for your home or store.
Pottery Barn Review
If you are looking for stylish items for your home, then visit Pottery Barn. They have sophisticated furnishing for your bedroom, office or store. You can choose from their collection of simple wood frames, upholstered beds, polished chairs, amazing furniture, etc. Their products are of good quality and their prices are affordable. They also have several rug designs, candle holders, blankets, cushion, and other décor items. Pottery Barn has different types of sleepers sofa. You can also order for custom made sofas, traditional sofas, compact sofas that fit into a small apartment. Use these simple tips to save some money while shopping on Pottery Barn;
1. Join the Williams Sonoma trade program to get several offers like;
I. 10 percent discount on any purchase
II. 15 percent discount when you buy items up to $10, 000 for one year.
III. 20 percent discount when you order for items worth more than $20,000 for a year.
2. If you're a veteran or an active military personnel, then the best place to purchase your home furnishing is Pottery Barn. You will get a 15 percent discount on all your in-store purchase. Simply go to the nearest Pottery Barn store with a means of identification.
3. Visit their website regularly to get an update on coupons and promo codes.