How to Use ValueMags Coupon Codes?
Grab valid ValueMags coupons from our website whenever they are available. Signing up for a ValueMags account will also enable you to receive ValueMags coupons and other promotional emails from the company.
Here is how to apply the ValueMags coupons:
1. Visit the NEWSTAND section of valuemags.com to find the magazine you want to subscribe.
2. Add the magazine to your shopping cart.
3. Sign up for an account on the website.
4. Add your shipping address.
5. Enter your billing information.
6. The last page of the checkout process is also the Value Mags promo code submission page. Review your subscription order and enter your ValueMags coupon code.
7. Click "UPDATE" to apply the coupon code and get your discount.
8. Complete the checkout process by clicking "PROCESS ORDER."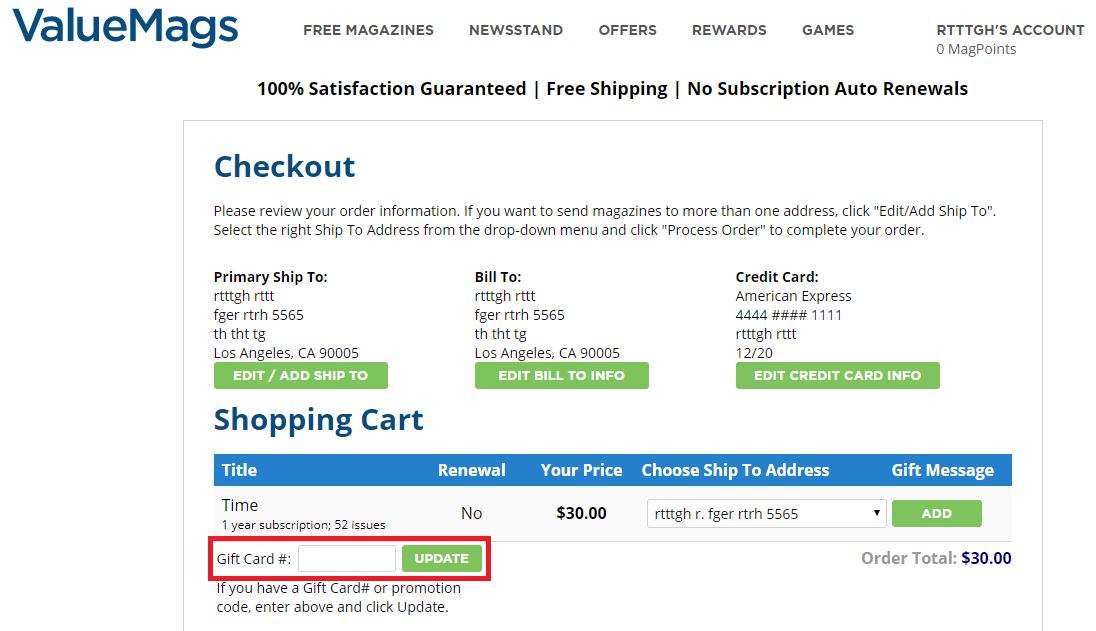 How to Save from ValueMags?
You can save from ValueMags by:
1. Registering for a ValueMags account so as to earn points. You will earn points for subscribing to magazines via valuemags.com, for simply visiting the website, and for viewing promotional emails from the website. You can later redeem the points for free annual subscriptions and even for free meals at renowned restaurants.
2. Visiting the FREE MAGAZINES section of the website to find free magazines; no need to pay to read them.
3. Checking out the OFFERS section of the website to find the latest free eBooks, subscriptions, and rewards.
ValueMags Review

ValueMags is a marketing company that was founded in 1999 in Chicago, Illinois by Andrew Degenholtz to promote magazines.
The company promotes many types of magazines including arts and crafts magazines, auto magazines, business & finance magazines, and free magazines.
ValueMags coupons are usually released regularly to enable people to save money on subscriptions. People can also save by earning redeemable points on the website or by getting magazines and eBooks for free from the website.
This business has a good reputation; it is a BBB accredited business. You can confidently subscribe for your favorite magazines through valuemags.com at discounted rates. You can also apply ValueMags coupons to further reduce the amount of money you will have to pay for magazine subscriptions.