How to Use Applebee's Coupon Codes?
Perhaps the most innovative thing about Applebee's is their interactive online ordering website. It makes it easy to buy meals plus sides and drinks from the comfort of your home. All orders made on the site must then be picked at the specific local Applebee's Neighborhood Grill and Bar.
The ordering website accepts coupon codes. Follow the instructions below to apply the company's coupon codes and get discounts plus free meals.
1. Visit the official Applebee's website (www.applebees.com).
2. Allow the website to access your location and to automatically pick the menu of the nearest restaurant.
3. Click 'Menu & Order' to reveal the menu.
4. Click on the 'Order' button next to the meal you want to buy.
5. Click on 'Add to Order' in the pop-up page that appears next.
6. Customize your order with sides, sauce, and drinks.
7. Click on your shopping cart and then click 'Proceed to checkout'.
8. Click 'Checkout as a guest' to reveal the last page.
9. Enter your pick up time and your payment information in this page.
10. Just below your order summary, on the same page, you will see the button 'Have a promo code?'.
11. Click on it and it will reveal a field where you can key in your promotion code. Enter the code and your order summary will automatically be updated.
12. Complete the order and pick your food when you are ready.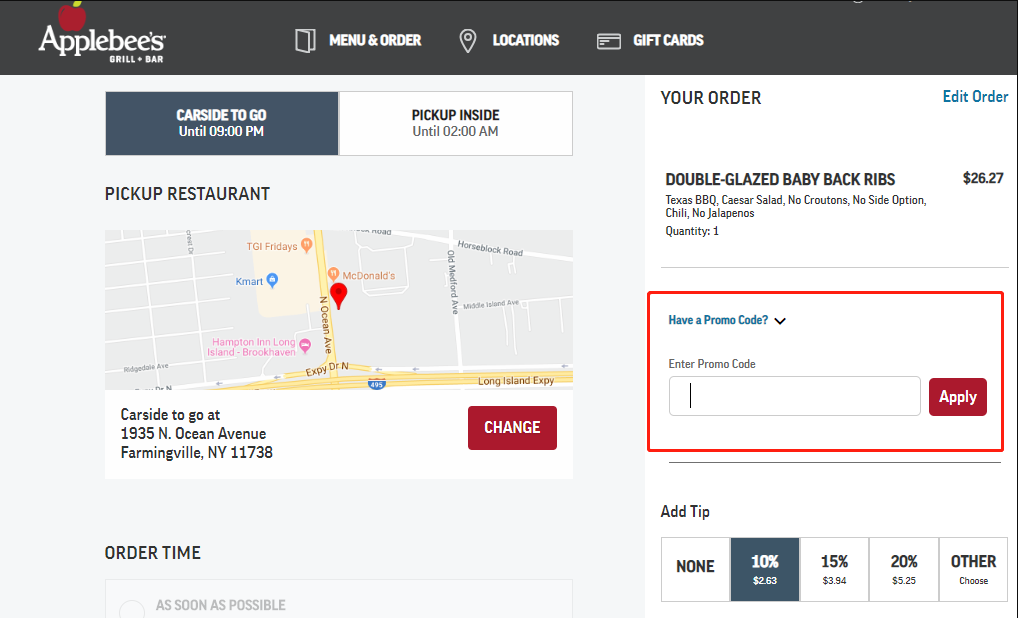 How to Save at Applebee's?
Applebee's is, without a shadow of a doubt, one of America's finest casual dining restaurants. It has a more welcoming atmosphere than many other food restaurants in the states. Moreover, it makes wholesome food. It also has exciting deals and promos that patrons like you can enjoy.
The easiest way to save at Applebee's is to become a member of their E-club. Becoming a member of the club is easy and free of charge. You will simply need to sign up on the restaurant's website and voila – you are in! Signing up will probably take you not more than a minute if you can type fast.
Members of the E-club are the first to receive news about the latest deals and new menu items in their local Applebee's restaurant.
Moreover, as a thank you for signing up to become a member of the club, Applebee's usually sends members a coupon within the first seven days of becoming a member. The coupon may be worth anything between one and ten dollars.
Furthermore, club members get free/ discounted birthday specials. Yeah, you read that right. Every birthday, you could get a free treat from Applebee's.
However, we must note that although the club is free for all, one must be at least 13 years old to become a member.
Are you an active duty military man or woman? If so, as a thank you for your service, Applebee's will give you free entrees on Veteran's Day. Veterans also qualify for free entrees. It may just be a meal for a day but it's free and it saves you money. Please note that you will have to carry some form of the military identification document to get the free entrée.
You can also save money at Applebee's by profiting from their Late Night Specials. Immediately after 9 pm in the evening, they usually sell most of their meals at discounted prices. There are also Happy Hour deals on drinks that you can enjoy in the late afternoon.
Lastly, you can also save money at Applebee's by buying a discounted gift card at one of the many online marketplaces. However, you need to be careful and to make sure that a card is valid before shelling out your hard-earned dollars.
Applebee's Review
Applebee's is a gem of a restaurant. It serves great American food and is renowned for its amazing casual dining experience. The restaurant was founded by two brothers barely forty years ago. It has grown from a simple restaurant to an international restaurant chain with millions of customers in over 20 countries. You can fill your belly with a variety of mouthwatering steaks and ribs or chicken nuggets from their comprehensive menu. Salads are also available for vegetarians as are kid-specific meals. Those who like happy hour specials will also love Applebee's as the restaurant has a bar section in most of its franchises.
The restaurant has an E-club that allows everyone to sign up for deals and offers. They also alert members of new menu items in their local Applebee's.
There are also many active Applebee's coupon codes. To save, use them during checkout.
Furthermore, you can save money with their happy hour and late night specials.