How to use Old Country Buffet Coupons?
Unlike some other restaurants, Old Country Buffet doesn't have an online pickup or delivery service on its website, but you can visit their shops to purchase any of their mouth-watering delicacies. This doesn't stop you from using their coupons however as you can always get printable coupons online.
These coupons are available on their websites and other designated coupon websites. They are also available in their respective restaurants. To get and use these coupons follow the following steps:
1. Visit their websites to have access to their various offers
2. Click on the offer and promo tabs to see the coupons available on the platform.
3. You can also visit any of the designated coupon websites to repeat the same process.
4. Print out the coupon code on a paper then take it along with you on your next visit to Old Country.
5. At checkout present the coupon(s) to the waiter.
6. The percentage would be deducted from your bill.
7. Pay the discounted amount.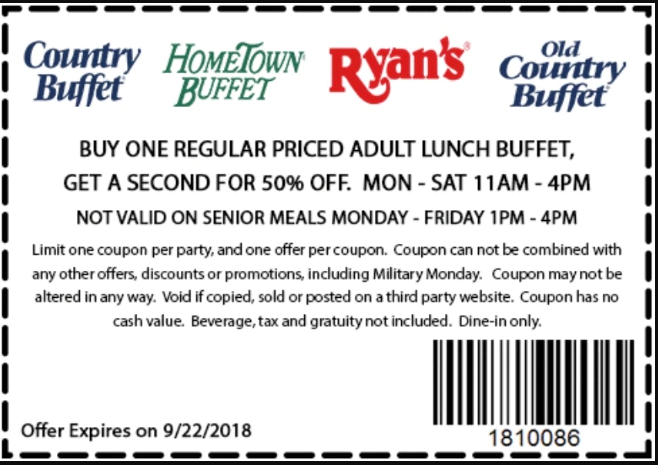 How to Save at Old Country Buffet?
It is easy to save when dining in Old Country as they offer a lot of fringe benefits to their customer. The following are the ways to enjoy these benefits:
Join the club
While it might be fulfilling to simply visit the Old Country Buffet restaurant for your favorite meals, keeping tabs on them exposes you to money saving deals offered by the restaurant.
To do this you need to sign up for the restaurants mailing list. This guarantees that you'll be the first to know when there is a new offer that leaves money in your pocket. They would send you emails on promotions, 2 for the price of 1 deal, coupon codes and other exciting offers.
To sign up for this amazing service visit the company website at oldcountrybuffet.com and click on the "offers and club" column. You would be required to provide your email address to register for this service.
Follow them on Facebook
Still, in the spirit of keeping in touch, you can like the restaurant on Facebook to have access to the latest developments and benefits offered in the restaurants. Also, you might get be a partaker of any of its social media promotions.
Sign up for mobile deals notification
You can also get constant notification of new deals straight to your mobile phones on a daily basis. Visit the company website for more information on how to subscribe to this service. Local phone rates might apply as well.
Discount for seniors
Old Country Buffet is a socially conscious all American Brand. Consequently, the company subscribes to the notion that senior citizens should not bear the full burden of their purchase price.
To support this believe elders can get daily discounts of up to 30% depending on the individual store. These deals are location specific so they might differ from one store to the other. What is guaranteed is you'll get a reduced price as a senior citizen in any of the brand's locations.
15% discount for military men
Old country also offers a flat rate 15% discount to all the servicemen. Walk into any of its restaurants with a valid means of identification to enjoy this amazing benefit.
Sign up for crave connection
Crave connection is another offer by the ovation brand (the parent company of Old Country Buffet). By signing up for this mailing service, you'll get a free coupon immediately to use by you and your family members. You'll also stay in touch with all of Ovation restaurants.
Watch out for holidays
Like every other famous restaurant old country offers special deals during celebrations and national ceremonies. Some of these include Thanksgiving, Christmas and New Year celebration. The restaurant also observes the 9/11 Remembrance Day.
These period offer you the best price discount you can find. Specifically for 9/11, the store might offer discounts to servicemen. So be sure to mark your calendar for any upcoming national event.
Check out the promo and fun segment
This segment usually contains the top 3 deals offered by the different restaurant currently. You can check this segment before each visit to see what offers might be available on that day. Some of these offers include drinks choices and discount on special servings.
Get a whole pie for less than 9$
This deal is currently available at all old country restaurants. You can get the brands signature pie for only $8.99 saving up to 50% in the purchase. However, this deal could slightly vary in price depending on restaurant location, the day of the week and time of day.
One for one offer
The brand currently offers its Facebook followers a printable coupon to get two adult meals for the price of one. Walk into any of its locations with this coupon to enjoy this deal. It is however only valid for a limited time only.
Watch of for daily deals
Daily deals are discount sales offered at different locations on daily basis. These deals could save you up to 50% discount depending on the individual restaurant. Ask your waiter to get this deal.
Free meal on your birthday
This deal is only available to members of the old country crave club. By signing up for this membership program, you get a free meal coupon on your birthday. This coupon entitles you to a full-size meal of your choice at any of the brand restaurant.
This same offer is available to your kid when you sign up for the kids club. The Old Country Buffet kids club ensures that your child gets a free meal plus drink on his/her birthday.
Avoid the restaurant on peak days
Due to high demand, you are less likely to find reduced price deals on these days. So it would be nice to stay away on those days if you can. These include the vacation period in a restaurant located in leisure locations. Though, you can still use your printed coupons on those days to save money.
Buy old country gift cards for discount
These gift cards are sold on the brand website, it's over 30 locations and on third-party gift card websites. Aside from the joy you derive from sending this card as a gift to friends and family, you also get discounts when you purchase a meal using the gift cards.
Look out for discount signage at locations
Some old country restaurants would put up discount prices on advert signage on the restaurant premises. These could be daily deals or limited time offers. Be sure to look for these signs the next time you walk into any of its restaurants.
Old Country Buffet Review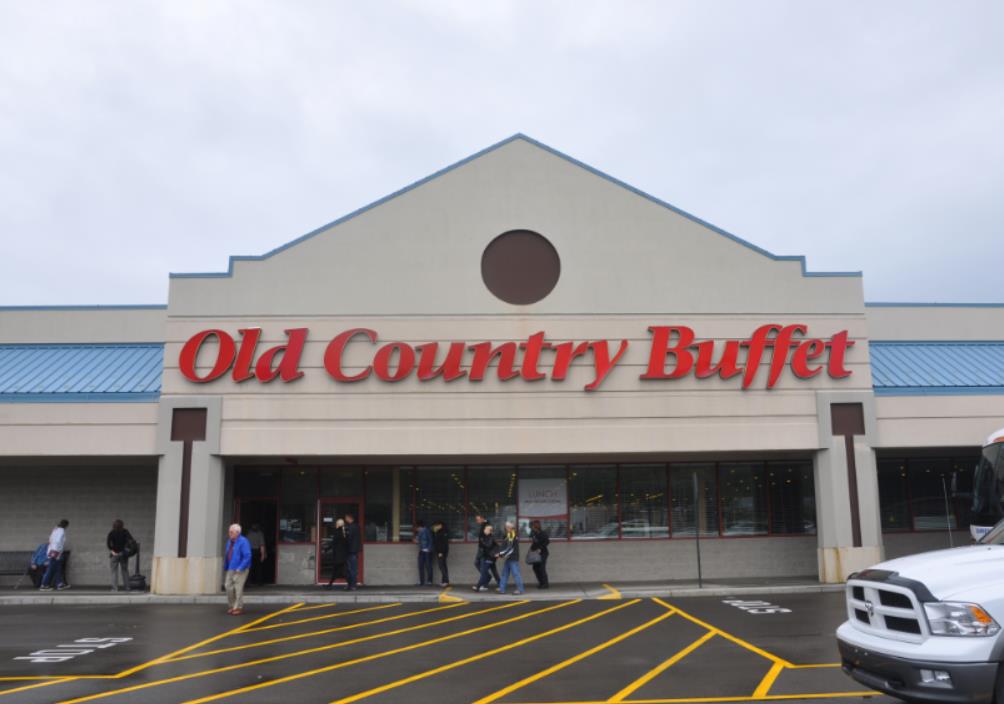 Buffets have never gone out of style. This is due to the thrill that comes with serving yourself and combining food the way you like it. No brands do this better than Old Country Buffet. The restaurant serves you the best meals, made from the best ingredients in a serene environment.
Items are combined according to your specification to give you and your family a swell experience. The restaurant also offers single meal serving for those that would have same. All of this is done at a price that won't hurt your bank account.
Old Country Buffet offers a wide range of meal collections for your breakfast, lunch, and dinner. These also include appetizers and desserts. With favorite dishes such as Macaroni and Cheese, Fried fish, baked chicken etc. you would keep coming back for more of their tasty delicacies.
For the health conscious, you have a lot of vegetable and salad options to choose from. These include mashed tomatoes, home-style soups and lots more. These meals are made with the best organic ingredients.
Old country gift card can be purchased for as low as $10 with $5 increments up to $100. To purchase the gift cards follow the following steps.
1. Log on to the company website
2. Click on the gift card icon
3. Select an amount for your specific gift card
4. Click on check out to pay for the gift card.