How to use Fazoli's Coupons?
Fazoli's has a user-friendly website so the entire process is straightforward. Here are the simple steps you need to activate your coupon;
Select your location. You can either click on the tab written: "Location" or you search for your location by inserting your zip code, state, or city.

Click on the location nearest to you and all the information you need will display.

Click on view menu to view their delicacies.

Tap "add to order" to select the item and your order details will appear.

On the right-hand side of the website, you will find a space written: "coupon code".

Insert the coupon or promo code and click on enter or tap the "apply" button.
Customers are not allowed to use Fazoli's coupon more than once. Use your coupon judiciously.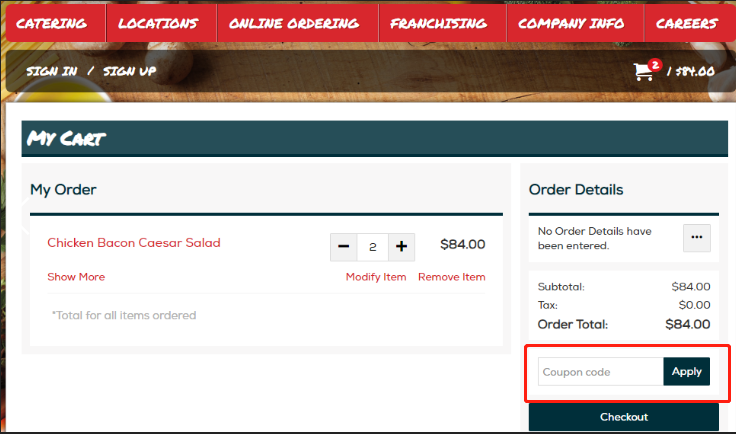 How to save from Fazoli's?
If you don't have a Fazoli's coupon and want to pay less for a meal, then this is for you. Below is a list of tips that can help you order your favorite meal without breaking a bank;
How would it feel to get a free baked spaghetti from Fazoli's? Awesome isn't? This can be made possible if you just download the Fazoli's Reward App. So download it today and get yourself a free baked spaghetti and a drink.

Apart from giving out free spaghetti, you can also use this app to get free food once in a while. How? You may ask! Very easy. For every $1 you spend, you will receive a point. When the point gets up to 50 (which is an equivalent of $5) you can cash it out.

Are you aware that you can invite a friend to use Fazoli's rewards? This will automatically earn you a free drink. All you have to do is share your invite code with your friend. When your friend orders for the first time, you will qualify for a free drink. So invite as many friends as you can.

If you have kids, you can get them a free meal at Fazoli's. Visit Fazoli's on Tuesdays between 5 to 8 pm, order a meal and 2 two kids can enjoy a free meal. However, the kids must be below 12 years.

You can also get a free lunch at Fazoli's. All you have to do is make an order for 2 portions of spaghetti Penne, Fettucini, Ravioli or a Side salad between 10:30 and 2:30.

If you're tired of pizza, then Fazoli's has several options for you. At Fazoli's you can order a meal for three (but be sure it may feed a family of 4 or more). They are served in a big bowl with salad and breadsticks.

As a senior, you will get a small sized quantity of pasta and a salad for just $4 daily. If you are dining at the restaurant, you will also get breadsticks. However, this option is limited. You can call their customer care to verify the criteria to qualify.

You can also get a discounted gift card at Fazoli's. Some gift cards go for as low as $50 with a quality meal.

Customers can also subscribe to their newsletter to receive direct details but their offers. Customers that subscribe are also rewarded with discounts after their first purchase.

You can also order your meal online with their app instead of waiting at the queue at the restaurant.

The best time to visit Fazoli's is between 11 am and 1 pm during the early hours of the day and around 5 pm to 8 pm during the evenings.
Fazoli's Review
Fazoli's is one of the oldest restaurants in the industry. They have been around for about 30 years. They serve the best Italian dishes you can think of. Each meal taste like it was made in Italy. Fazoli's has the best chef's that prepare delicious meals. Don't worry about your calories, the calories in each meal are stated on your order. They serve meals that help build your body system. Fazoli's makes use of the best ingredients to prepare your meals. Their vegetables are sourced from local farms that grow natural crops. Fazoli's is located in 23 states in the U.S.A, namely Alabama, Arkansas, California, Kentucky, Michigan, Minnesota, Colorado, Connecticut, Florida, Mississippi, Missouri, Nebraska, Georgia, Illinois, Indiana, Oklahoma, Oregon, South Carolina, Iowa, Kansas, North Carolina, Texas, Virginia, West Virginia, Ohio, South Dakota, Tennessee, Texas, Virginia, West Virginia, and Wisconsin. Indiana has the highest number of Fazoli's locations with 35. Although their head office is located in Kentucky, it has just 32 locations. You can either dine at their locations or request for delivery. They have amazing customer care support service. If you have any challenge, they are always ready to help. Fazoli's prices are affordable but they vary depending on the location you order from. Although they have some non-Italian dishes, they have maintained, what they are known for and that is Italian cuisines. Some of the meals on their menu are chicken broccoli penne bake, chicken carbonara, spaghetti, twice-baked lasagna, chicken parmigiana, Italian deli trio, cheese, New York style cheesecake, etc. During the early days of the restaurant, they focused more on pizza. Gradually they added pasta and other meals to compete favorably in the food market. There is a lot of meals on their menu for the entire family. They have a conducive environment to enjoy your meal. They are arguably the best Italian restaurant that cooks the best spaghetti, golden buttered breadsticks, and meat sauce. One thing that makes a Fazoli's restaurant the place to have a meal is their large portions. Diners love the leaner bills after such a tasty meal. As a customer, you would expect a well-set table, tasty meal, refreshing environment for your visit to a Fazoli's restaurant. All these and more await all diners that visit Fazoli's location. You have several opportunities to save a lot of money while dining in a Fazoli's restaurant. Here are a few tips to help you save from Fazoli's restaurant;
They offer several deals during the holidays. For some meals, you can get as much as a 20 percent discount from your order.

You will save a lot more if you order their family sized meal. It's quite a meal. It can fill at least three male adults and two kids.

Fazoli's is on social media. You can subscribe to their Facebook, YouTube page or Twitter handle. It will also give you an insight into what other customers who have used their services are saying. The most important thing is that you will be in tune with Fazoli's offers, deals or discounts.

Another way to save from Fazoli's is to join their eFamily email club. Members are rewarded with a free welcome gift package after signing up. You could also get exclusive offers, coupons, and discounts. Sometimes, members are invited to their local restaurant for a free meal.

As a member of the eFamily, you will also receive special offers for certain meals like pasta, pizza, sandwiches in any location nearest to you.

Always keep your eye on a Fazoli's coupon.

You can also visit Fazoli's website once in a while to get more information. They often give out details of their operations, coupon or promo code, discounts, offers, etc.