How to Use IHOP Coupon Codes?
To enjoy considerable IHOP discounts, knowing how to use IHOP coupon codes will be essential. It is by applying coupon codes to your orders that you will be able to automatically reduce pay less at checkout. Follow the process below to find out how you can pay less at IHOP.
Visit the official IHOP restaurant website to make your order (www.ihop.com).

Click on the "Menu + Order" tab at the top of the page to view the available menu items. Click on a menu item and you will be taken to a separate page to view important details about the menu item including calories and ingredients used.

Click "Order on IHOP N' GO." This will redirect you to a page where you will be asked to confirm your nearest IHOP restaurant. Click "Yes, this is correct."

On the next page, you will be asked to fill in a couple more details before your order is processed. Select the time you will pick up your meal, and then click, "Start Adding to Your Cart." You will be redirected to a page where you will be asked to customize your meal by adding toppings, meats, and sides. When done, click "Add to Cart." A popup page will appear with two buttons, "VIEW CART" and "PROCEED TO CHECKOUT."

Click on "PROCEED TO CHECKOUT." You will then be asked if you want to "continue as guest" or if you want to "sign in." Select the option that you would like to use.

The next page that will appear is the last page. On this page, you will confirm your restaurant information, your pickup time, your contact information, and your payment. This is also the page where you will enter your promo code if you've got one. Just below the hovering page marked "Your Order," you will see the question "Have a Promo Code?" Click it and a field will appear.

Enter your promo code, and then click "Apply"

Complete the checkout process, and then go pick your meal.
Seeing that this process has eight steps may make you think it is a bit challenging but it is not. The process is extremely simple if you follow the steps above. In fact, it is so simple that even a seventh grader could do it. The website will guide you through every step.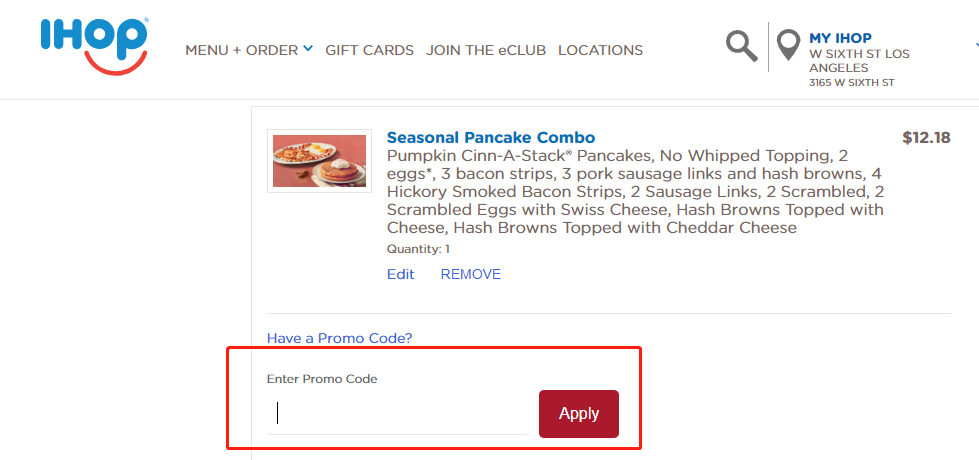 How to Save from IHOP?
There are several ways to save when ordering breakfast foods at IHOP. We have detailed some of the ways below.
The biggest way to save megabucks at IHOP is to make sure you sign up to become a member of IHOP's eCLUB. The restaurant refers to the club as the Pancake Revolution. Signing requires your email and filling in your personal details and agreeing to receive promotions and offers from IHOP. The only condition that you need to meet to join the club is to be at least 13 years old.
As a club member, you will receive exciting coupons and deals every now and then in your email. You will receive a coupon right away as a thank you for signing up. You will also receive coupons for free delicious pancakes every year on the date you signed up and on your birthday.
Pancake Revolution members also get notified immediately of deals exclusive to their local IHOP restaurants.
Another way you can save megabucks when dining at IHOP is to ensure you frequently visit the restaurant's website. The restaurant usually has many limited time offers include pancake and French toast combos at reduced prices. So make sure you check out the website for foods on offer before making your order.
You can also find out about the latest IHOP promotions by watching the company's television Ads.
Finally, you can also save good money on IHOP by simply ordering online. The company has an offer in place to promote its online ordering system. Every first time order qualifies for a $5 off if it is worth over $25. However, the discount is not automatically applied. You will have to apply this promo code IHOPNGO at checkout to grab the discount.
Third party companies such as Shop 'N Chek are looking for mystery shoppers. You can sign up to become one. If you do successfully become a mystery shopper, you will be given vouchers to enjoy free meals every now and then.
IHOP Review
IHOP was founded in 1958 in Toluca, California by the Lapin brothers, Jerry and Al. The restaurant started very simple but grew rapidly over the years to become the brand it is today.
Initially, the restaurant was best known by its full name "International House of Pancakes." However, because of the changing times, the restaurant abbreviated its name to IHOP for easier marketing.
The restaurant initially served just a handful of breakfast items. However, over the years, the restaurant has increased its menu items significantly. In the past, you could just buy ordinary pancakes, right now there are several different types of delectable pancakes, French toasts, waffles, crepes, omelets, appetizers, and special tasty IHOP creations.
There are a number of ways you could save money when checking out at IHOP. You could save money by signing up to become a member of the IHOP eCLUB, by grabbing the restaurant's limited time offers, by enjoying the IHOP online ordering $5 discount, and by becoming a mystery shopper. The biggest way to save is obviously by joining the eCLUB as you will get free meals and alerts about regular deals.
Now you know how to save. Visit IHOP and dig into your favorite pancake at a discount.