How to Use Mazzio's Italian Eatery Coupon Codes?
It is easy to use the Mazzio's coupons or promo codes while ordering your favorite pizza or other food items from its website. You do not need to have any kind of technical expertise or knowledge of computers to do this. You just need to follow the simple steps mentioned below, to use the Mazzio's coupons while ordering food from it:
1. You should create an account with Mazzio's if you are ordering from it for the first time.
2. Select the food item you want to order and fill up the details that are being asked before placing the order, such as about the type of crust for pizza, the dip you want to have, any kind of extra toppings etc.
3. In the checkout page, you can find a space on the lower left side to enter the coupon code.
4. By entering a valid coupon code and then clicking "apply discount", you can find the discounted price in your cart.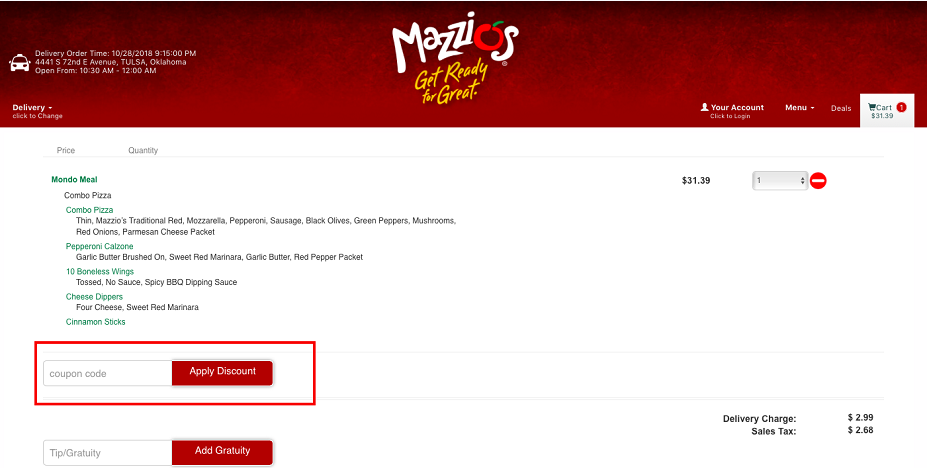 How to Save from Mazzio's Italian Eatery?
They are a number of methods by which you can save while ordering your favorite food items from the Mazzio's, without using the coupons. These are enumerated below:
1. Join the FreshText Club by using your email and contact number, to stay updated about the latest offers and promotions provided by the company.
2. If you order food items during the special occasions such as Valentine's day, Black Friday, Christmas, New Year eve etc., you can get them at exciting discounts.
3. On joining Mazzio's eClub, you can get a welcome coupon of $5 for the next Mazzio's purchase of $10.This also makes you eligible for a Birthday coupon which can be availed for a free small pizza with specialty or up to 3-topping which you can either dine-in or carry out. Enrollment in the eClub provides you with an anniversary coupon every year on your date of enrollment which can be used for a second pizza free when you buy a medium or large pizza. Besides this, you will be the first one to get the latest news and get access to special and exclusive offers, updates about the many along with other fun surprises.
Mazzio's Italian Eatery Review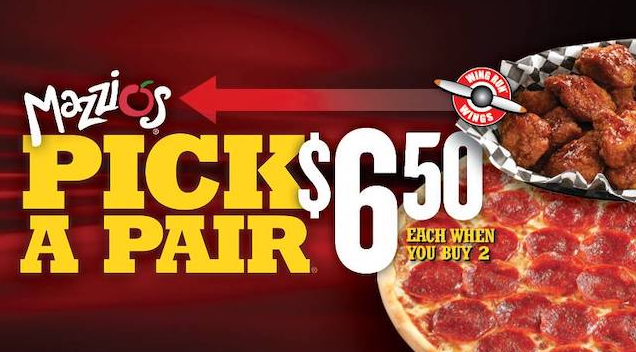 The specialty food items of Mazzio's include pizzas, pasta, sandwiches. The restaurant includes some other specialty items in order to include many other locations that offer free wireless internet. You can find that Mazzio's delivers to most of the locations. Thus you can get a variety of its specialty pizzas at any place you stay.
Here are some of the tricks that can be used while ordering food at Mazzio's, for good savings:
1. Subscribe to the social media pages of Mazzio's such as Facebook, Twitter, YouTube, to get details about the latest promotions and offers.
2. In the different online sites, you can search for coupons and promo codes which can be used to get your favorite pizza or other food items from Mazzio's at exciting discounts.
3. You can enroll yourself for the Mazzio's eClub to enjoy exclusive benefits such as welcome coupon of $5 on the purchase of $ 10, birthday coupon, anniversary (enrollment date) coupon and exclusive access to the offer and other updates.
4. Also, you can click on the "coupons" tab located on its web page, to get access to various printable coupons.
5. Join the FreshText club by entering your email id and phone number to stay updated about the latest offers.