How to Use MIMI'S CAFE Coupon Codes?
As a frequent Mimi's café patron, there are many ways you can save money. The best way is obviously through coupon codes. This is because they are direct and guaranteed. Ways through which you can acquire valid coupon codes are detailed in the section below. In this section, we will tell exactly how to use coupon codes on Mimi's website.
1. Visit the official Mimi's Café website (www.mimiscafe.com)
2. Browse the website to find the link written 'TO-GO.' Click the link to reveal an online ordering page where you can search for local restaurants by state.
3. Click on the state to reveal Mimi's local restaurants plus directions, and contact numbers.
4. Click on the 'ORDER TO GO' link next to the nearest restaurant to your home address. This will redirect you to the specific menu of the restaurant.
5. Select what you want to eat and your sides.
6. On the same page, add your name or special instructions to the order. When done, click on the 'ADD TO ORDER' button at the bottom of the page.
7. Click on the shopping cart icon. This will reveal a popup page where you can add your coupon code.
8. Enter your Mimi's coupon code and click 'ADD.' And then click 'PROCEED TO CHECKOUT.'
9. Enter the time you will pick up the order and complete the checkout process and then click 'SUBMIT ORDER.'
10. Pick up your order and enjoy at the office or at home.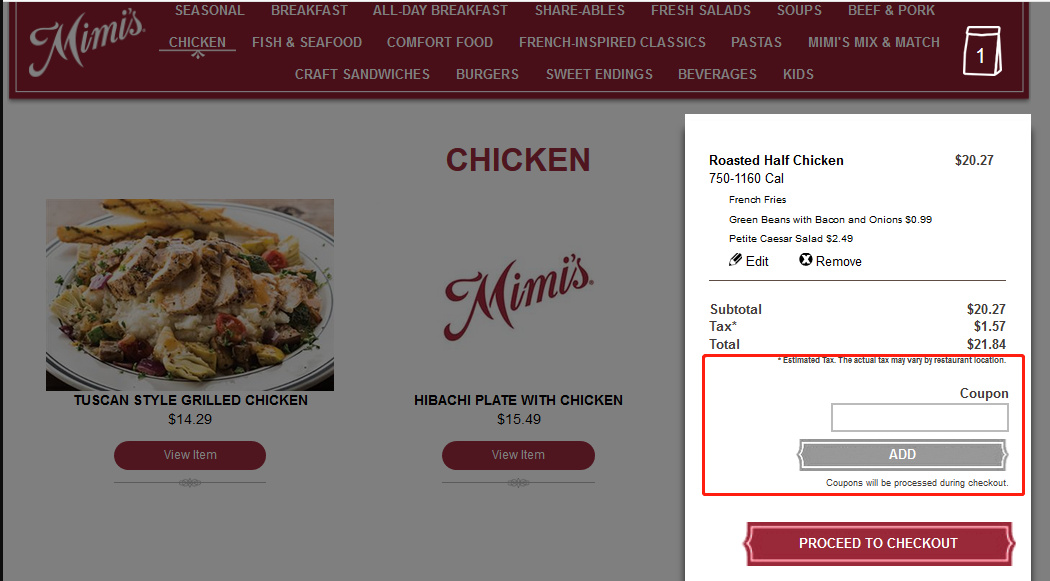 How to Save at MIMI'S CAFE?
The number one way to save big at Mimi's café is to join the restaurant's E-CLUB. Registration to become a club member requires only your email. No need for a special code or anything. Visit the café's official website and look for the E-CLUB registration page. As a new member of the club, you will get a pack of two muffins or croissants for free. As an ordinary member, you will also regularly get news about the café and special offers and deals in the form of digital coupons. Use the step by step information provided in the section above to use the coupons you will receive in your inbox. For your information, you are likely to get deals on your birthday, wedding anniversary, and on American holidays. So make sure, you have this in mind when planning to eat out on any of those days.
You can also save money at Mimi's café by buying a friend e-gift cards. Unlike in the past when guys had to buy physical cards and to pay shipping fees and whatnots, you now get e-gift cards that can be sent instantly. They can also be customized at no extra cost.
MIMI'S CAFE Review
The café was founded by a World War 2 veteran who was stationed in France in 1978. Known as Arthur J Simms, the veteran had also worked as the head of MGM studio's commissary in the 1950s, so he was also an experienced restaurant manager in his own right.
The restaurant serves breakfast, lunch, and dinner. All its 145 locations are French-themed. Mimi's café also regularly gives out lucrative deals and offers. Check out the other sections of this page to find out how to get the deals and offers.