How to use the Pick Up Stix Coupons?
Pick Up Stix coupon are not easy to come by. So whenever you get one, use it wisely. However, it doesn't require much to use your coupon. Follow these steps to enjoy great deals with your coupon;
1. Select your preferred location. You can choose your preferred location by either inserting your state, city or zip code. The locations where Pick Up Stix operates more is in California. The time of opening and closing will also appear.
2. Scroll down to have a complete view of their menu and prices.
3. Select your desired meal and beverage to go with.
4. The next page will show you other items to add to your order and the quantity you want. Scroll to the bottom to select the quantity.
5. Select add to cart when you're through.
6. On the right-hand side of the page, you will find a column written "Order Options".
7. You either choose to pick it up at the nearest restaurant close to you or have your order delivered.
8. Choose the time and date you want the order to be delivered or picked up.
9. Click on "proceed to checkout" to continue with your transaction.
10. On the left-hand side of the page, you will find a column written: "Coupon Code".
11. Insert the coupon to proceed and click on "Apply Coupon Code".
Each coupon is used per order.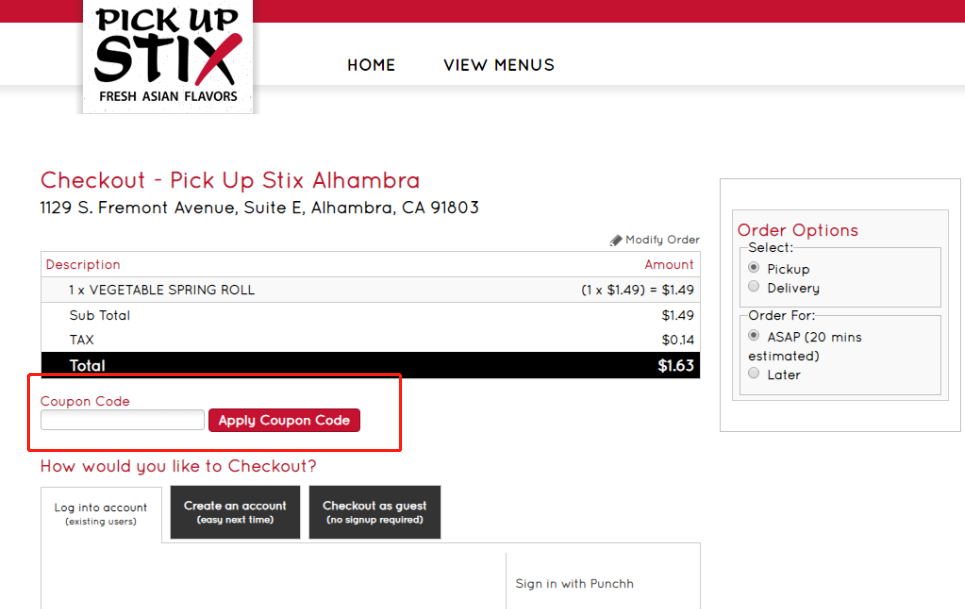 How to save from Pick Up Stix?
Pick Up Stix has provided several avenues to help their customers enjoy their services apart from giving out coupons. Below are a few saving tips if you want to order a meal at Pick Up Stix;
1. Create an account with Pick Up Stix and sign up for their gift card. This will you will save more than 10 percent discount from the original price.
2. Join Pick Up Stix "Dragon email club". The advantage of joining this club is enormous. You will be the first to know about the latest offers, promos, and deals. Also, as a member, for every dollar you spend, you will earn a "fortune". If you earn up to 100 fortunes, you will get a free entrée. Just like most restaurants, Pick Up Stix is on social media. If you like their Facebook page, it will earn you some bonus points.
3. Are you aware that Pick Up Stix has an app? Yes, they do. With a Pick Up Stix app, you can order your meal and either pick up or get it delivered. The app is easy to use. If you want to earn points using the app, scan the barcode on your receipt. You can visit their website to know more about the app.
4. Do you know that referring a friend to Pick Up Stix can earn you a lot of bonus fortunes? Most customers are not aware of this exciting offer. Simply invite a friend to use the Pick Up Stix app and you will receive 15 fortunes as a bonus on their first purchase. So invite as many like you to earn more points for a free entrée.
5. With the Pick Up Stix app, you don't have to wait on the line. Just go straight to the counter and pick up your order.
6. During Holidays such as Labor Day, Veteran Day, or Columbus day, Pick Up Stix gives out special offers. You may receive up to 20 percent discount from the actual price of a meal. Other holidays where you can get special offers are Mother's Day or Father's Day.
7. They also have delicious meals for kids. Order a kids menu at a discount.
8. As a military veteran, you will also receive some discount.
9. You can get an amazing discount on your birthday. However, you have to sign up for their dragon email program. You will receive the following;
a. Free cream cheese wontons.
b. This offer is valid for 7 days before your birthday, on the actual day and three days after.
10. Visit their website regularly to get more insight into their current promotions, offers or deals. Pick Up Stix has several daily offers for their customers. However, the locations may vary.
Pick Up Stix Review
Just like you already know, Pick Up Stix has been in the restaurant business for about 3 decades. Their aim remains to serve tasty meals in a serene environment. They currently have over 70 locations around the country and counting. They are known to prepare the best Asian cuisines. Pick Up Stix makes use of fresh vegetables from the local farms and they use the best ingredients. They also prepare the best chicken and beef sauce. Pick Up Stix is a restaurant for the whole family. They are several beverages to choose from. You can customize your order in line with your eating habits. They are strict on compliance to the industry rules and regulations. They always maintain a healthy environment. Pick Up Stix always tries to uplift the hearts of their customers by offering amazing discounts. However, these offers, promos, or deals may differ from one location to another. One thing is certain, you will receive a promo or reward or discount whenever you visit a Pick Up Stix restaurant. They are several ways you can enjoy a delicious meal at Pick Up Stix without paying so much. Here they are;
1. The restaurant is often busy during the early hours of the day and evenings. However, the best time to visit Pick Up Stix is within 11 am and 6 pm.
2. You can also receive a reward during their happy hours. These hours vary depending on the location you visit.
3. If you're afraid of no eating healthy, Pick Up Stix has several meals that have calories that are lower than 400.
4. During the Asian festivals, they also offer some discounts.
5. You can order their daily specialty and get amazing discounts.
6. Always look out for lookout for coupons that offer free delivery.