How to use Red Robin Coupons?
It's no longer news that Red Robin offers a coupon to their customers. These coupons will enable you to order for your favorite meal half the original price. Follow these simple steps to get great deals;
1. You need to create an account and log in.
2. They have several meals on their menu. Just click on your choice.
3. On the left-hand side of the website, you can search for the nearest outlet close to you.
4. Insert your city, zip code, or state to see outlets close to you.
5. Scroll down to see the delicacies available in that outlet.
6. Pick any item of your choice.
7. The next page provides you the opportunity to customize your order. You can a sauce or side dress as part of your order. Below this page, you can choose the quantity of the meal you want.
8. Select "add to cart" to proceed with your order.
9. The total price of your order will appear on the right-hand side of the page.
10. There is a column written "order option". You will find an option to choose the scheduled time for your order. Select the time and date you need the order to arrive. Then click on the button written "Schedule time".
11. Click on the button "proceed to checkout" to continue with your order.
12. The next page will show your total order.
13. On the left-hand side of the page, there is a column written "coupon code".
14. Insert on the coupon or promo code and click on "apply coupon code".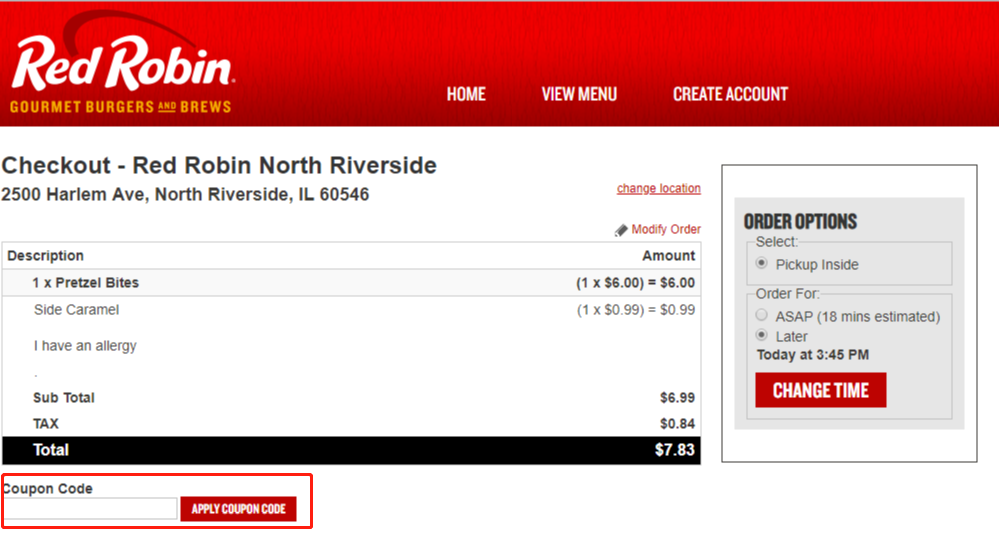 How to save from Red Robin?
Apart from using coupons offered by Red Robin to get great deals, they are other ways to save money from this restaurant. These tips are easy and straightforward. So look beyond Red Robin coupons and follow these steps to save money;
1. Order the kids menu. Ordinarily, the kid's menu is for children below the age of 12. But there nothing stopping an adult from ordering this menu. The kid's menu has several meals that are not on their regular menu. You can get a meal for as low as $10. However, don't order from the kid's menu if you are sitting in the bar. The waitress will enforce the Kids only rule.
2. They also offer birthdays rewards. You simply have to join Red Robin loyalty program. You will get a free burger on your birthday month. As a member of this program, you will also receive $20 on your sixth visit to the restaurant and a free meal on your 10th order. To be a member of this program, simply sign up with your email address. To get the most out of this program, you can ensure that members of your family or friends join. This will help you save some money. As a member you will receive the following rewards;
i. 50 percent discount from any Fire-grilled Gourmet Burger you order.
ii. Order one Tavern Burger and receive a 50 percent discount.
iii. If you spend up to $10, you will receive a $4 cash back. This offer is available for members once a day.
iv. You will also receive a 15 percent discount from your total order once a day.
3. If you split your burger, you will still receive a bottomless fries.
4. Include your children to be part of the Red Robin Royalty program to receive amazing discounts whenever you make an order. You can add two of your kids to Red Robin Kids/Teen Club online. But if you want to add more, then call their customer support. One of the incentives includes a free meal on their birthday. Other amazing offers for your kids are;
i. A free kids meal certificate for kids below 10 years.
ii. A free Red Robins Fire-Grilled Gourmet for kids above 13 years.
5. Download the Red Robin app to enjoy more offers. This will afford you the opportunity to every new promo code or coupon. Some of the offers you will receive using this app are;
i. Make an order worth more than $10 and get a free appetizer
ii. Make an order worth $14 during launch time and get one free.
iii. 15 percent discount on your total order.
6. Sign the to Red Robin eClub and receive great deals.
7. Red Robin offers promos every ten weeks for a movie ticket worth $25 gift card.
8. They offer numerous promo codes during the Holiday. During the Father' Day, you can get a free gift card. In previous years, they offered as much as $5 gift card if you buy a $25 to $45 gift card.
9. Military veterans receive offers from Red Robin every year. These offer includes their spouses, retired or active. They give out a 20 percent discount to veterans on "Veterans Day". Veterans will also receive a free Tavern Double Burger on a daily basis.
Red Robin coupons can be used per order. So use this coupon judiciously.
Red Robin Review
Like you already know Red Robin has been around for more than 4 decades. Their mission is to serve delicious meals in a good atmosphere. In 2015, records showed that Red Robin restaurant grew by creating up 538 location Nationwide. You will be sure to enjoy tasty Gourmet burgers that are prepared with the best ingredients. They have the best-flavored fire-grilled beef. They make use of good cheeses, fresh vegetables, and other healthy ingredients. Red Robin sells their burgers and sandwiches with bottomless french fries. They focus more on using a combination of fresh and healthy ingredients. Among their popular meals on their menu is their chicken sandwiches and wraps. Apart from sandwiches and burgers, you can also order for seafood, chicken wings, and cheese. They also have several meals on their kid's menu. So Red Robin is a complete restaurant for the whole family. At their restaurant, they have so many options for an appetizer. You can also pair them with a beverage. Customers have several drinks to choose from like milkshakes, malts, etc. they also have beverages for adults like beers, red wine, white wine of different brands. You can also order for their mixed beverages like Mai tai and others. If you have a taste of their Freckled lemonade, ask for more. You can also join a Royalty program known as "Burgers for Better School". This program offers the company to give back to the community. When a customer signs up, they can choose any school where 1 percent of their purchase will go to. Apart from the "Burgers for Better School" program, they also have a Red Robin Foundation. This is also geared towards improving the lives of members of the community where they carry on with their business. It's no doubt that there is climate change. Red Rod has been working tirelessly to reduce their carbon footprint. They prepare their soups and other condiments indoors. They don't also freeze their meat. Red Robin buys from farms that don't use antibiotics. They also patronize local farms for their vegetables. Although there are a large variety of restaurants to choose from, Red Robin is unique and provides a quality meal at affordable prices. You can customize your order to suit your appetite or diet. They also maintain industry standards to serve their customers. If you're looking for a restaurant with a good hygiene maintenance culture, visit Red Robin. If you want to get great deals ordering from Red Robin, then take a look at these tips.
1. If you're a teacher, then just register with their Red Robin Loyalty program to get amazing discounts. This reward is known as educators offer.
2. Insert your phone number on the tabletop tablet at their restaurant to receive credit.
3. If you're having any challenge contacting customer care on phone, try their social media handles. They respond faster if you contact them via twitter than other social media handles.
4. This restaurant gets very busy most times, so the best time to have a meal is between 11 am to 5 pm on weekdays and from 8 pm till closing on weekends.
5. Red Robin offers a reward during Happy Hours. However, these hours vary depending on your location.
6. They have several menus that you can order that are under 400 calories. So you can also eat healthier at Red Robin restaurant.
7. If your order is more than $500, you will receive a 10 percent gift card of your entire purchase.
8. You can save up to 16 percent of your bill when buying a gift card.
9. If you order a milkshake, you will be given another for free. So next time, visit Red Robin with a friend and order a milkshake to save some money.