How to Use Ross Coupon Codes?
Ross does not have an online shopping website. Therefore, you can't order its merchandise or enter a coupon/ promotion code online.
If you have a promotion code, print it, and take it with you to a Ross store. When you are done shopping, show the code to the cashier, and your order total will be discounted.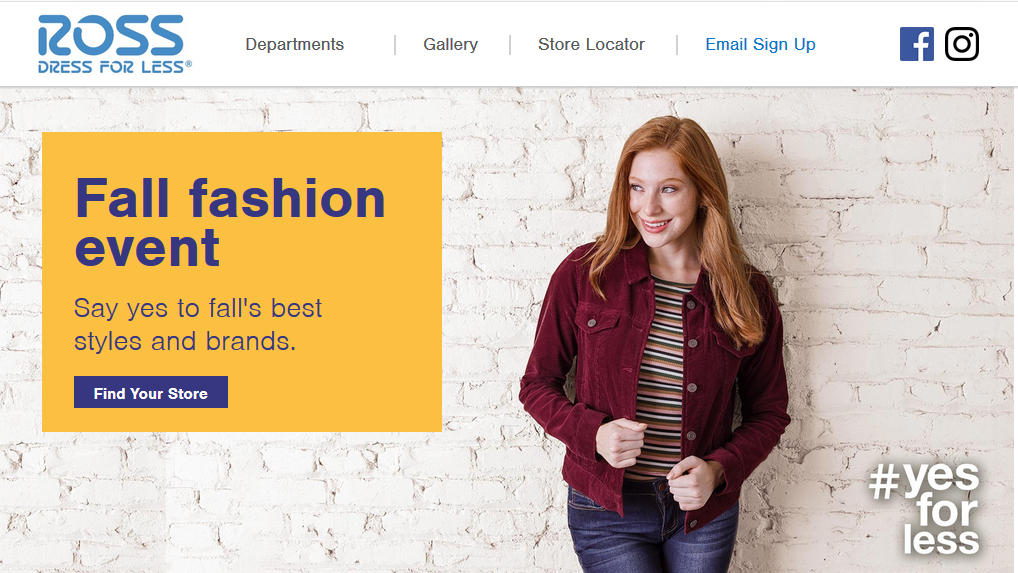 How to Save at Ross?
Just by shopping at Ross, you will be enjoying between 20% and 60% off. This is because business is an off-price department store.
Another way to save is to snap pictures of yourself in Ross's clothes and you will get some cash for your efforts. At one point in its recent history, Ross was giving its fans $100 for pictures they posted on Instagram wearing Ross clothes.
Moreover, subscribing to Ross's mailing list will ensure that you get first dibs on the latest news about clothes, merchandise, and price drops.
Ross Review
Ross is an off-price clothing department store that was founded in the 1950s. The company has grown over the years, and it now owns over 1400 stores around the country. The company makes over a billion dollars every year and serves millions of customers annually.
The women's jackets and accessories at the store are perhaps the best to get as they are of high quality and can upgrade looks instantly. Other products carried by Ross include handbags, cool shoes, dresses, and even men's clothing and apparel.
To get the most out of Ross, subscribe to their mailing list, and check your inbox regularly for information about the latest deals from the Ross chain store.