How to use Tropical Smoothie Café Coupon Codes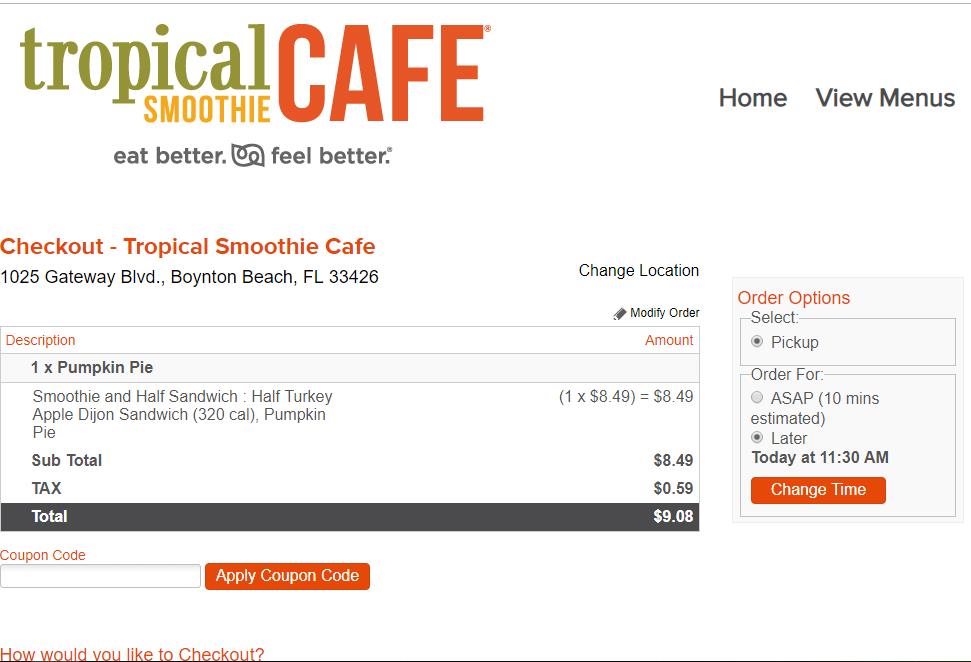 Are you thirsty for some delicious nutritious drink? Have you tried Tropical Smoothie Café? If not, then try it while it still lasts. Their smoothies are professionally made with your health in mind. Enjoy your smoothie together with any of the items on the menu including sandwiches, wraps, and rolls at affordable prices. However, if you want to receive more value for your bucks, you can do so by using coupon codes. Coupon codes are special codes generated by a company in order to offer discounts to customers when ordering. If you have a valid tropical smoothie café coupon code, here's how to go about it:
1. Head over to their website, tropicalsmoothiecafe.com.
2. On the top right, click order online.
3. You will be directed to a page where you can fill in the zip code of your location.
4. The website will scan for nearby outlets.
5. If any, you will see the outlets and what they offer.
6. Select what you want.
7. Select the specifics of your order and click add to cart.
8. Continue to checkout.
9. Below your order details, there's space to enter your coupon code.
10. Enter the code and click Apply coupon code.
11. If the code is valid, it will reflect on the total price.
12. Alternatively, you can order using the Tropical Smoothie Café App. Be sure to have your location turned on so you can see nearby outlets. Select, order, and pay online through the app.
How to Save from Tropical Smoothie Café
One of the great advantages of buying a smoothie at Tropical Smoothie Café is you get a surfeit of ways you can save some bucks. In any case, this remains the main goal of any shopper when looking to purchase items. Quality is also a determining factor. Tropical Smoothie Café has several ways you can save from them. All you have to do is be vigilant and utilize every opportunity available for saving as much as possible. Here are various ways you can save.
1. Download the Tropical Smoothie Café app. Tropical Smoothie Cafe has an app for both Android and iOS phones. With the app, you can order and pay directly from your phone. Even better is the fact that you will earn reward points every time you order with the app. These rewards points can be redeemed at any of their stores for free items and smoothies.
2. Open a Tropical Rewards account. If you're a onetime shopper, then this may not be that beneficial. However, if you plan on enjoying their smoothies for a long time, then opening a tropical rewards account can help you save a lot of money. Tropical Rewards account holders get to receive special points when they buy as well as special offers designed just for them. You can save some bucks by utilizing these offers.
3. Watch out for Tropical Smoothie Café's promotions. They have several promotions going on, the prominent one being the National Flip-Flops day. During this time, you're only required to wear flip-flops and visit their store in the afternoon to enjoy a 16-Oz sunshine smoothie. You also get to be part of their philanthropic work where they help needy ill children by paying only $1.
4. Sign up to their mailing list. Being on their mailing list will help you be among the first to receive offers and promotions. With this, you get to be among the first people to redeem such offers before they run out. Also, you get personalized information about products you can buy at subsidized rates.
5. Purchase a reusable cup. With a reusable cup, you will be able to save an extra $0.5 to $1 every time you buy since the cost for a new cup will be reduced.
Tropical Smoothie Café Review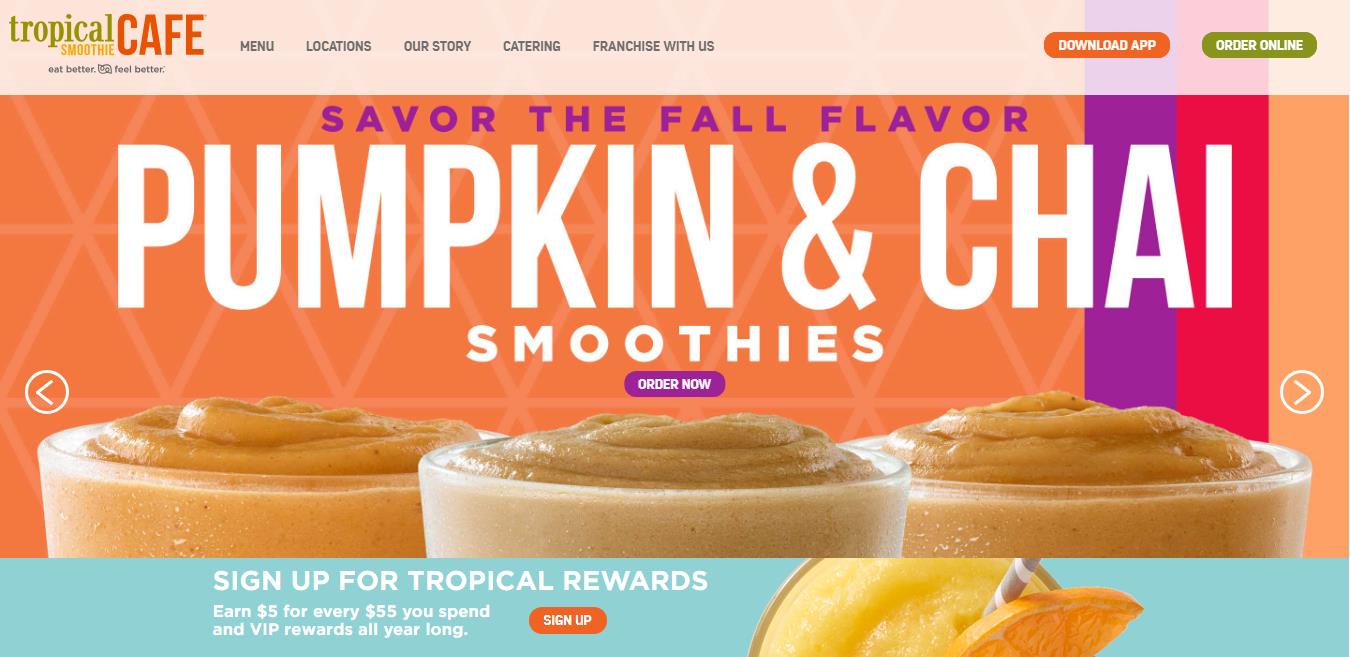 Tropical Smoothie Café is one of the most prominent smoothie outlets in the U.S. They specialize in creating delicious natural smoothies with their customer's health in mind. Their prices are reasonably set.
Tropical Smoothie Café was formed in 1997 in Florida. It has witnessed exponential growth over time and has opened more than 650 outlets nationwide. They plan to attain 2,000 outlets by 2019. Their menu covers a wide range of items including smoothies, sandwiches, flatbreads, wraps, bowls, and breakfast items. Their best-selling smoothie has remained to be the Island Green.
Occasionally, they offer limited time offers, four to five times a year. They have added a new menu item they call the Cali Chicken Club Flatbread. They also began offering a vegan option known as Beyond Meat. Beyond Meat is made up of soy and pea proteins and flour. Their revenues Flip-Flops 50-50 between smoothies and food sales.
They're involved in charity work in which they help needy ill children receive medical care. They also partner with Camp Sunshine to take needy children to camps. So far, they've raised more than $5.4 million for this course.
There are several ways you can save some bucks at Tropical Smoothie Café. For instance, utilizing coupon codes can save you up to 50% of the order total price. Furthermore, buy a reusable cup and save $1 every time you order for a smoothie by eliminating the need for a new cup. Sign up to their mailing list to receive offers and promotions sent directly to your mail and be among the first to enjoy massive discounts. Take advantage of their promotions and offers such as the national flip-flops days and save some huge bucks. You can also save on future purchases by installing the Tropical Smoothie Café App and ordering. This way, you earn reward points which are redeemable for free items and discounts at their stores. Another great way to save is to open a Tropical Rewards account where you'll earn points with every purchase. These points can be redeemed for free items. You also become eligible for special offers specifically made for you.