How to Use Vestiaire Collective Coupon Codes?
Got a Vestiaire Collective coupon? Check out the steps below to see how you can redeem it. If you do not have a coupon code, visit promotion sites like ours or the store website itself to find the latest valid Vestiaire Collective coupons.
Here is how you can redeem one of the coupons:
1. Visit Vestiaire Collective.
2. Sign up for Vestiaire Collective community account or sign in to yours if you are already registered.
3. Browse the site by designer, by brand, or by a search to find the product you want to buy.
4. Add the item to your shopping bag.
5. Click your shopping bag to review its content.
6. Click "Complete Your Purchase" to move to the next page if pleased with the product.
7. On the next page, you will be able to submit your Vestiaire Collective coupon. Submit and click the button "Add" next to it. This will apply your discount automatically.
8. Complete the checkout process by paying and confirming your order.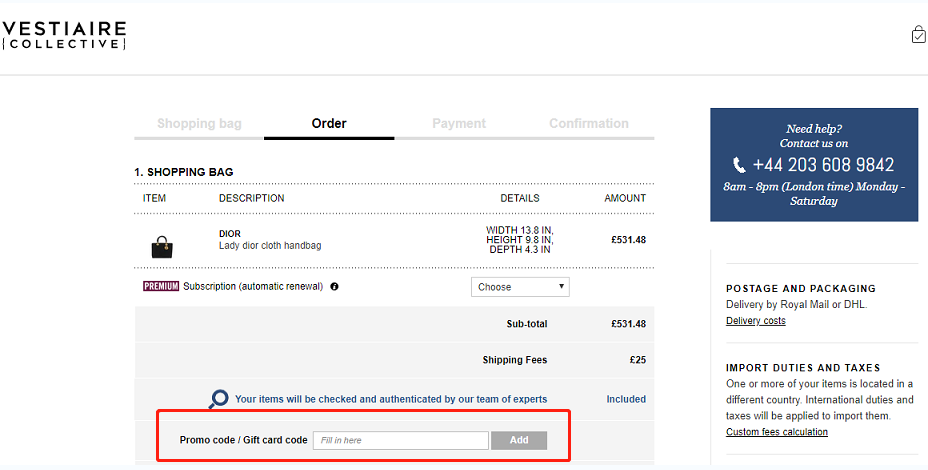 How to Save from Vestiaire Collective?
There are a good number of ways you can save on Vestiaire Collective. The number one way to save is by making an offer. When you find an item you want to buy but you want to buy it at a price less than the one which is listed, you can do so by clicking the "MAKE AN OFFER" button next to it. You can then follow the process thereafter to tell the seller the price you are comfortable with. You may just be lucky enough to get the product even at 20% or 50% off.
The second best way to save is to save by using Vestiaire Collective coupons. We have demonstrated above how you can apply the company's coupon codes. You can get the coupons from promotion sites like ours or from the Vestiaire Collective website itself.
The third best way to save is to subscribe to become a premium member of the store. Subscription only costs eight pounds a month. For this price, you will get free shipping on up to 12 products, you will be able to reserve luxury items for up to 30 minutes, and you will get early access to items before they are listed for the general public.
Lastly, Vestiaire Collective allows for payment in installments. You may not be saving by using this method, but you will be getting more time to pay for an item, which is kind of like saving.
Vestiaire Collective Review
Vestiaire Collective is the leading luxury item marketplace in Europe. On the website, you will find thousands of pre-owned luxury label handbags, watches, clothes, and other items being sold at very affordable prices. All the items accepted on the site are first vetted for authenticity and quality before being listed; so you can be confident that any item you buy on the site is original and worth the price you want to pay for it.
The company was founded in Paris, France in 2009 by Christian Jorge, Henrique Fernandes, Alexander Cognard, Sophie Herman, Fanny Moizant, and Sebastien Fabre. Vestiaire Collective has grown over the years and now has hundreds of thousands of pre-owned luxury items on sale on its website.
You can save good cash when buying brand items by subscribing to become a premium member of the site, by paying for your item in installments, by using Vestiaire Collective coupons (as explained above), and by making an offer to the seller.