How to Use Winn-Dixie Coupon Codes?
First of all, Winn-Dixie does accept coupon codes from manufacturers. Secondly, the company has its own coupon codes know as Digital Coupons. Digital coupons enable shoppers to save good money when buying groceries from the grocery chain store. Check out the guide below on how to use both types of codes.
1. Visit the official Winn-Dixie website.
2. Register for the company's SE Grocers Rewards program. [This will take less than five minutes]
3. Hover your computer's cursor over the savings tab and click on digital coupons. This will reveal all the available digital coupons.
4. Click on the 'ADD' button on the coupons you want to use. This will activate the coupons in your SE Grocers Rewards online account.
5. Visit the nearest Winn-Dixie and do your shopping.
6. Provide your phone number during checkout so that the cashier can connect to your rewards account and apply your activated coupons. Your discount will be applied and you will pay less at the counter.
As you can see, there is nothing difficult about applying Winn-Dixie promotion codes. There is also no code needed for using their coupon codes and no limit as to the number of coupon codes you can activate. However, you must know that the codes have expiry dates. Make sure you use your added coupon before it expires.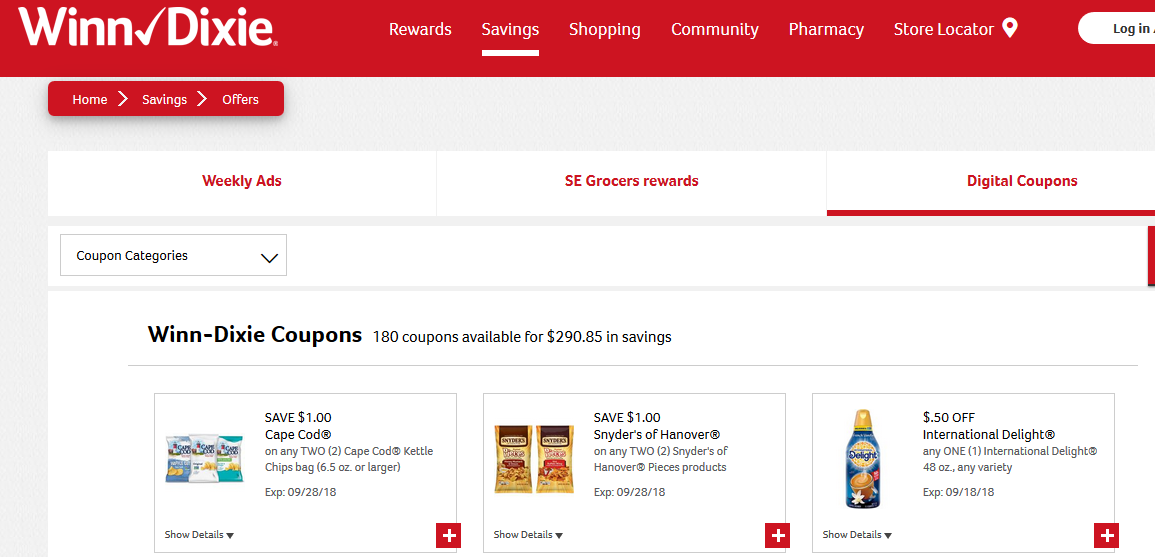 How to Save on Winn Dixie?
After reading this bit of our page, shopping will become much more fun for you. You will be able to save tens if not hundreds of dollars weekly by doing things as detailed below.
First of all, immediately after you are done reading this page, make sure you register for SE rewards. SE stands for Southeastern Grocers, the mother company of Winn Dixie. SE rewards is a single loyalty scheme for rewarding those who shop at Winn-Dixie stores and other SE-owned stores such as Harveys Supermarkets, and BI-LO. Every qualifying purchase you make at any Winn-Dixie store or any of the other stores will earn you points that you can redeem. The points can reduce your budget on groceries or fuel; every 100 points can give you a discount of $1 off your groceries order total, while the same amount of points can give you a discount of five cents per gallon on fuel. This rewards program is definitely a nice incentive to encourage people to shop at Winn-Dixie and other participating stores.
Secondly, there are dozens of digital coupons on the official Winn-Dixie website that you can also take advantage of. You will need to simply log in to your rewards account on the Winn-Dixie website and clip/ activate the coupons for the products you are going to buy. You should then visit your neighborhood Winn-Dixie store and buy the products you have activated coupons for. When checking out, tell the cashier you got coupons that you would like to use, they will ask you for your phone number to link to your online rewards account and apply the coupons to your order.
Lastly, you can also save at Winn-Dixie by viewing the grocery's Weekly AD. The Ad is a collection of great products that are on sale. The Ad also lists hundreds of Buy One Get One free item. The Ad is available for viewing and download on Winn Dixie's website.
With these many offers, deals, and promotions, you can see why it was stated that you could save hundreds of dollars a week at this chain store.
Winn-Dixie Review
Winn-Dixie was founded in the year 1927 by William Davis. Before founding the supermarket, Davis had been involved in the running of a general store that was not very successful. However, with his new enterprise, he seemed to have decided to make it work; and in the end, it worked. The company grew rapidly and was able to add more stores before the untimely demise of Mr. Davis. However, his sons were able to successfully take over the business. They worked hard to grow the supermarket chain even further. They also introduced quite a number of new product categories and somewhat modernized the store. However, the company was acquired by another company by the name of Southeastern Grocers in 2015. This new company has brought in much more stability and profitability
The supermarket has a good variety of products but their special focus is on vegetables. One of the supermarket's best products comes not in the form of a natural food product but in the form of soda. Winn-Dixie makes its own brand of soda known as Chek. The soda is relatively popular in a few places and earns the company a good amount of money. The good thing about the soda is that it is value-priced. This makes it cheaper than its alternatives. Moreover, it is available in a good variety of flavors including strawberry, orange, grape, and cola flavors.
There are many offers and deals you can enjoy on the Winn-Dixie website. Just make sure you follow the directions provided on this page. For example, make sure you register for the company's loyalty program to earn points that you can later redeem. Also, make sure you frequently check out Winn-Dixie's Weekly Ad to see the latest products on sale at the supermarket.